The back of the box boasts a "thrilling storyline," but don't believe it. There is a story here, but there's absolutely nothing thrilling about it. What you get is a series of poorly acted, dull cinemas that barely push the story forward. I ended up hating every single character in this game, especially the main character (who looks like he just stepped out of a 1980s movie). You know you're in for a rough time when a main character (with a slight weight problem) is lovingly nicknamed "slob." And did I mention that you can't skip the cinemas? It's a real mess and I would have preferred no story at all.
What ended up frustrating me the most was the bevy of game crashing glitches. More than a few times I had to restart the game because of some weird design decision. For example, one time when the cops pulled me over it prevented the competition from getting around me. Apparently this was enough to keep me from loading a save state or even going to the main menu. The problem is, this has happened several times to me. And each time I had to go back and watch the annoying cinemas again. Seriously, who makes cinemas you can't skip in the 21st century?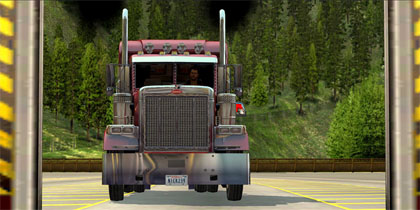 The graphics and presentation aren't bad, especially compared to the past 18-wheeler racers. The character models are inconsistent and the world is as bland as can be, but that doesn't take much away from the game. I recently drove 12 hours to San Francisco (to pick up this game, actually), and I can tell you that the terrain in this game is spot-on. Whether that's a good thing or not will be entirely up to you.
The game supports a bunch of different game pads and steering wheels, so fans of simulation racing/driving will have no problem getting this game to work with their favorite controls. I used a PlayStation 3 control and had zero problems, outside of the sluggish controls and poor handling of the trucks. You probably shouldn't even bother if you plan on using the standard keyboard set-up.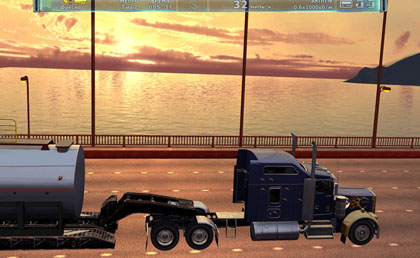 Like Microsoft's Flight Simulator, Rig 'n' Roll will appeal most to the gamers that have an interest in the given occupation. The action is slow and a lot of the fun comes from what you bring to the table, not the other way around. Still, it feels like the developers might be trying to have it both ways. There are enough race elements in this game to genuinely be considered a racing game, while one could argue that it should be classified as a simulator. Regardless of whether it's a racing game or not, the game didn't connect with me. The game works well as a simulator, but I wonder how the constant racing elements will go down with the target audience.
The other problem I have is that I simply don't understand the mindset of somebody that wants to jump into a hardcore truck driving simulator. Flight simulators I get, since the dream for many is to fly all over the world in large and small aircrafts. But a truck? I've driven these California highways in real life and don't feel the need to do it in a game. But I'm sure there's a market for this kind of product. For what it is, Rig 'n' Roll is a well-made game that is only marred by some technical glitches and some questionable design decisions.