The truth is, Desperate Escape isn't really doing anything new or original here. You're fighting "zombies" and collecting keys. You pickup weapons and trade with your brand new partner. Late in the game you have to hold off a zombie attack for nearly seven minutes while the helicopter pilot finds you. These are all things you did in Resident Evil 5, which may disappoint some gamers hoping for an entirely new experience. But I didn't mind. It has been so long since I played through Resident Evil 5 that I appreciated a second taste of the frantic action and non-stop "zombie" gore.
Like Lost in Nightmares, Desperate Escape is extremely short. While the game said it took me around an hour to beat, it was probably closer to 90 minutes (thanks to the wicked difficulty of the final battle). While I definitely noticed the short running time when I played through Lost in Nightmares, I didn't seem to have that problem with this downloadable level. In fact, by the time I had escaped the facility and completely run out of ammo, I felt completely satisfied. You may only play it for an hour or so, but the whole time the game's excitement level is through the roof. There is no downtime here; you simply don't have the time (or ammo) to explore your surroundings.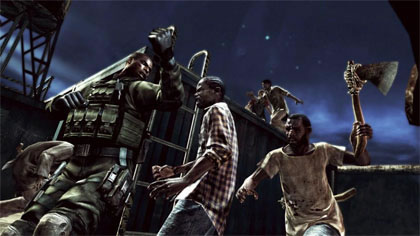 You could probably make a cogent argument that this story didn't actually need to be told. In the original Resident Evil 5 it was implied that Jill escapes and leaves Chris to take the fight to Wesker. But who cares? This is just another excuse for Capcom to give us more "zombies" to fight, both online and off. Best of all, if you're like me and haven't played through Resident Evil 5 in a year, then this just may be enough to make you want to give it another play through. I know that it's made me want to revisit the gruesome details of Capcom's 2009 survival action game.
Beyond the simple story mode, gamers will be able to take a couple of new characters into the Mercenaries Reunion mode. This remixed version of the standard Mercenaries mode gives you even more to do. And best of all, you can take all of your characters (including those from Lost in Nightmares) online for the ultimate reunion.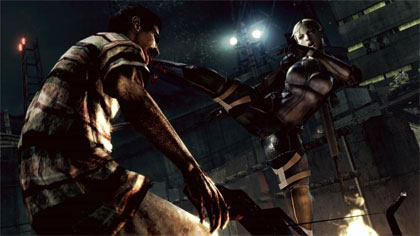 Resident Evil 5: Desperate Escape isn't going to change your mind about the direction Capcom has taken this franchise. If you didn't like the jarring switch to all-out action, then you probably aren't going to care for this entry. I'm sure there are people who would have preferred another entry like Lost in Nightmares. And while I sympathize, I feel that the slow-paced, traditional Resident Evil survival horror is best left for the next installment. If you are the type of person that loved the action, then you're going to get a kick out of this downloadable pack. It's never boring and certainly doesn't miss a beat. This is an exciting chapter of Resident Evil that is not only worth the full five dollar asking price, but will also go a long way to whet your appetite for whatever is next in this franchise. Now all they need to do is bring on another scary Resident Evil game.