Like Guitar Hero and DJ Hero before it, Band Hero features a number of celebrity bands that show up at just the right moment. This time around we see creepy recreations of No Doubt, Adam Levine (or Maroon 5) and Taylor Swift (but no Kanye West). There's no question in my mind that Activision's art department is getting better at recreating real musicians. My complaint is that none of these artists look quite right, often acting wooden and awkward. The "uncanny valley" aspect of the realistic characters is clearly at play in Band Hero, but it's no worse than it was in any of the other Hero titles.
The game gives you all of the modes you have come to expect from the Guitar Hero franchise, including a decidedly limited career mode (complete with short video clips that set up each wacky venue you get to rock), a quick play mode, online multiplayer and the Guitar Hero Studio (where you can create your own Band Hero songs). Band Hero also includes a Sing-Along and a Party Play mode, which allows players to play in a friendly, non-competitive atmosphere. None of this is Earth shattering, but it, along with the game's five dozen songs, will keep most casual gamers busy for some time to come.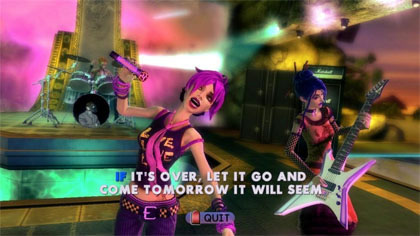 Fans of the Hero series are also able to import songs from other Guitar Hero titles, though there is a small fee attached. While I love the idea of being able to take your song collection from game to game, I wish there was more to do with the additional songs. The same holds true for the downloadable content, which you can also use (and buy) in this game. The Band Hero campaign is extremely basic, with no real weight to it. I'm hoping that one of these days Activision will take a page out of the Rock Band playbook and offer a more robust campaign mode. Heck, even LEGO Rock Band features a full-on world tour mode that actually gives you a reason to keep buying brand new songs.
While I'm digging through the game's negative points, I was saddened to hear some of the cuts that have been made to these songs. There's the obvious stuff, such as references to drugs, alcohol and sex. I get why they did that, this is, after all, a family friendly E10+ rated product. But a few of the excised lyrics aren't inappropriate in any way that I could figure out. It's a shame that in order to make the product they had to error so much on the side of caution.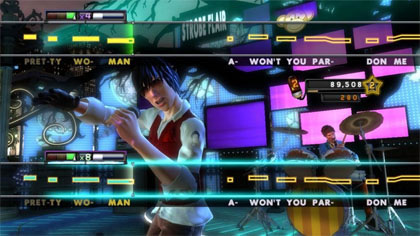 The graphics, audio and presentation are all exactly the same as what you found in Guitar Hero 5. Even the enhancements are the same, such as the ability to start a song without even going into a menu screen. I also like that each of the songs has its own unique challenge, which can net you an additional 3 stars per song. The new gameplay mechanics (including the guitar's touch notes) are all accounted for as well. If you liked the look and feel of Guitar Hero 5, then you shouldn't have any problem with Band Hero.
While the music selection isn't my cup of tea, the game is on par with Activision's other recent Hero titles. If you know a younger gamer who has been chomping at the bit to play Guitar Hero, this family friendly title may be a solid alternative. Outside of the track list there isn't much difference between these two games, but that doesn't bother me. Despite the song choices, I had a good time with Band Hero, and at the end of the day that's all that matters.