The magic is a real mixed bag in Brutal Legends. Early on you're given the power to summon your hotrod (known as The Deuce); which may just be the single most useful spell in your tour book. Other spells include the ability to literally melt your enemy's faces off with the power of rock and recruit new followers just by showing them the beauty of heavy metal. By the end of the game you are rockin' some of the craziest spells I've ever seen in an adventure game, including one that is so destructive (and cool) that I don't dare spoil it for you in this review.
This nightmarish world of Brutal Legend is fully realized and a lot of fun to explore. This isn't one of those games where most of the world feels randomly placed; every inch of the world feels like it was hand crafted by the metal gods. Best of all, each area of the map is completely unique. You start out in a field full of rock formations in the design of guitars, hands and other metal images. Before long you are in the jungle battling panthers that shoot lasers out of their eyes, the snowy mountains with saber-tooth mammoths and in a spooky graveyard-style world where the dead roam freely and there are large dogs with guillotines for a tail.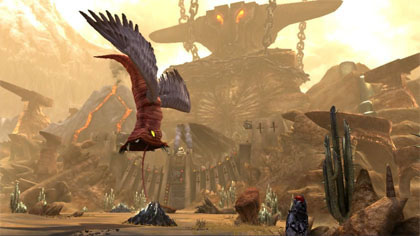 The world isn't simply gorgeous to look at, it's also filled with extra missions to complete and secret objects to find. In that sense it's a lot like Grand Theft Auto or any of the other popular open world games on the Xbox 360. While it's not pigeons you're killing, you do have to raise 120 statues and find all of the hidden music. You will still perform in car races that are straight out of Rockstar Games' crime simulator. You can hunt and help friends beat back ambushes, it's all par for the course.
In a funny way, this world comes alive thanks in large part to the music that is constantly playing in the background and the cast of characters. Not enough can be said about Jack Black's performance in Brutal Legend; it's a role that feels like it was specifically made for the comedian. Jack had me in stitches from beginning to end, thanks in large part to his spot-on delivery of each and every one of the game's one-liners. It doesn't hurt that the character of Eddie Riggs is a lot more expressive than your usual video game hero, it all comes together to create one of the greatest video game characters of all time. I cannot think of a better pairing than Jack Black and a game about the power of metal, it's a match made in Heaven ... or would that be Hell?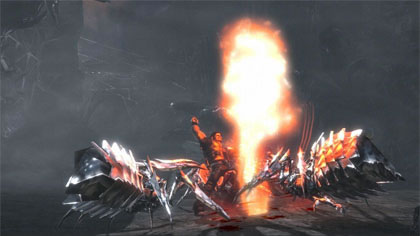 The rest of the voice actors aren't too snazzy, either. Because this is a game about how cool heavy metal is, you can expect to hear a lot of familiar voices. I knew going in that I get performances by Lemmy of Motorhead, Rob Halford of Judas Priest and Lita Ford, but I had no idea that these rockers had so much acting range. Lemmy isn't going to win any awards for his acting chops, but he pulled off a few funny jokes and convinced me that he could do competent voice acting. The only rocker who doesn't have much range is Ozzy Osbourne, who has a teeny tiny role as the Guardian of Rock (a shopkeeper where you buy upgrades). I'm not going to say that he's the worst actor in the world, but anybody who has watched Ozzy knows that he's kind of the same character no matter what. That's not a complaint, there's something comforting in the sameness of Ozzy.
Not everybody in the game comes from a heavy metal background. Early in the game's development Ronnie James Dio was announced, but due to unknown circumstances he had to drop out. Thankfully his replacement is no slouch. The always versatile Tim Curry brings a lot of evil and dread to his performance as the game's main villain, Doviculus. The game also features funny takes from David Cross (Arrested Development, Mr. Show), Kyle Gass (Tenacious D, Train Wreck) and Brian Posehn (The Comedians of Comedy). They all complete one of the greatest lists of voice acting talent ever assembled for an action game.