Although it launched with Virtua Fighter and Panzer Dragoon, it was Astal that left the biggest impact on me in the Saturn's early days. While the rest of the lineup focused on fancy polygonal graphics, Sega's 2D platformer stood out thanks to its incredible hand-drawn visuals. After years of seeing simple 8- and 16-bit sprites, Astal looked like a painting had come to life. Unfortunately, the game wasn't all that much fun to play, but I can still remember hoping that we would see a whole generation of gorgeously realized hand-drawn games.
I was reminded of this while playing Jotun: Valhalla Edition on the PlayStation 4. While this brand new adventure game has little to do with Astal, its use of hand-drawn graphics made me reminisce about what could have been. For as versatile and convenient as polygon are, there's just something special about the hand-drawn look. You can see the attention to detail and care put into every frame, and that has always heightened the experience for me.
I doubt Thora cares if she's represented by polygons or sprites, because she's too busy fighting giant monsters in an attempt to prove herself to the Gods and enter Valhalla. The good news is that Thora has been given a second chance at life after suffering inglorious death. The bad news is that she's now forced to explore a labyrinthine world and go head-to-head with the biggest, baddest bosses Odin can throw at her.
Split into five challenging stages, Thora will need to thoroughly explore two separate areas to find the hidden ruins. Once she finds both ruins, our Nordic hero will be able to open up the gate and battle one of the massive jotuns. These are giant creatures that often do battle with the Gods, but today they are going to have to go through Thora first.
Beyond collecting the hidden ruins, we'll also find power-ups that will help you turn the tables on the enormous bosses. Thora will learn a healing spell early on, followed closely by Thor's Hammer, Odin's Spear, Heimdall's Shield and more. Even though Jotun takes the Shadow of the Colossus approach by focusing more on the boss battles, there's still a lot to discover while you explore the large stages between fights.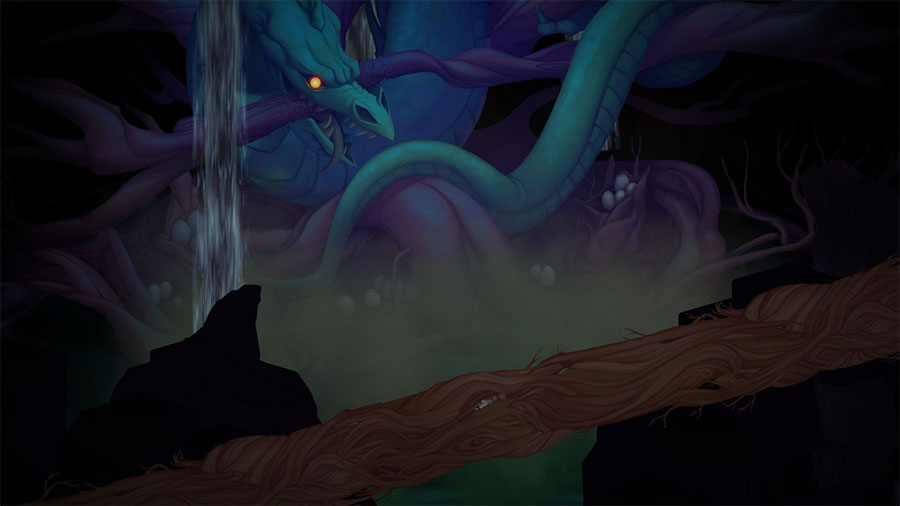 Click For the Full Picture Archive
Apart from the various magic spells, Thora is limited to only a couple different attacks. She has a standard swing that is quick and not very powerful, as well as a strong swing that requires a second or two of wind-up. She will also be able to roll away from sticky situations and use her giant axe to chop down trees. This isn't much, but it's all she will need to take on those massive creatures waiting at the end of the stage.
Since so much of the game revolves around taking down the jotuns, it probably shouldn't come as a surprise that they are the highlight of this adventure. Every one of them towers over Thora, with each giving us something unique to look forward to. Each boss is absolutely stunning, perfectly showing off everything I love about hand-drawn graphics. My only complaint is that there simply aren't enough of these battles. Maybe I'm greedy, but it would have been nice to see a couple more of these epic fights.
The game's length will certainly be an issue for some people. While you can spend quite a while on the bosses if you haven't collected the various upgrades and magic spells, most people will go through the game in only a few hours. Even though I was constantly jumping from one beautiful location to another, it often felt like more could have been done with the levels. There's a predictable pattern Jotun follows from beginning to end, which left me craving more.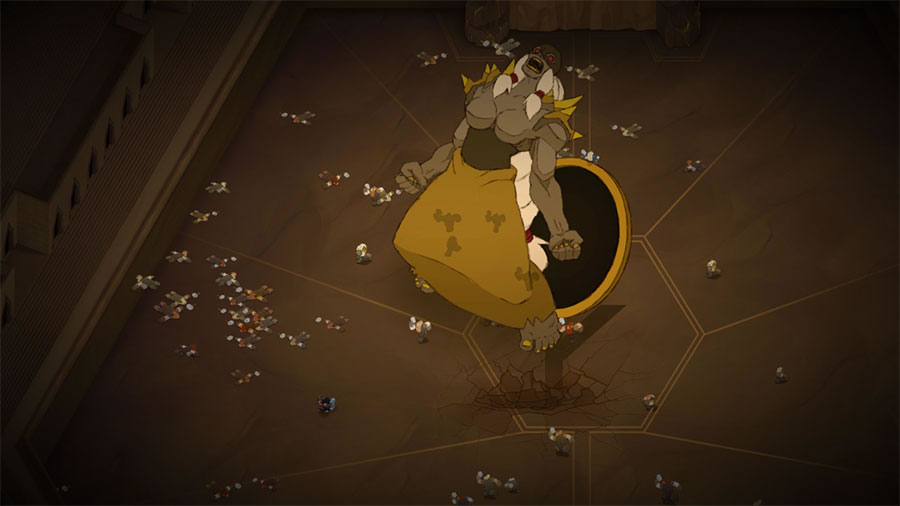 Click For the Full Picture Archive
Thankfully, this brand new console release offers more than the brief story mode. Jotun now includes the Valhalla Mode, which features much fiercer and more aggressive versions the massive beasts. Here you will need to learn new patterns and strategies in order to survive. This is a fun addition, but I still say Jotun needs a few more bosses.
Despite being on the short side, Jotun: Valhalla Edition is a stunning adventure that you won't soon forget. There are times when I wished it offered more moves and bosses to fight, but there's more than enough content here to warrant the asking price. It's worth it just to see the giant jotun creatures in action. I want to see more games like this.