Splatterhouse (Namco)
[ Console: PS3/Xbox 360 | Last Installment: Splatterhouse 3 (Genesis) ]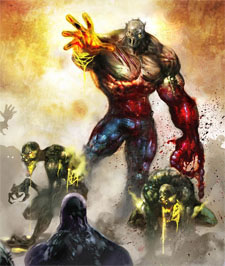 This new game is bloody. At least that's a start!
How Long Has It Been?
Long before the government set their sights on Mortal Kombat, there was Splatterhouse. This arcade game was every young boy's wet dream, a house full of blood, gore and monsters. And didn't I mention the blood and gore? Yeah, this was everything your mom was afraid you'd play as a kid. But the last Splatterhouse hit home consoles just as the bloody revolution was about to get started. With the release of Splatterhouse 3 in 1993, Genesis owners were the last to see this short-lived franchise.
Why Should You Care?
Maybe you shouldn't care about this troubled reboot. The game has been in a never ending development cycle for years, jumping from one team to another. It was first announced two years ago, but in that time we've had more than enough evidence to conclude that there's a good chance this brand new Splatterhouse will even make it to store shelves. Of course, I could be wrong. Konami showed it off at E3 and by all accounts it looks like a new Splatterhouse game is coming to fruition. But at what cost?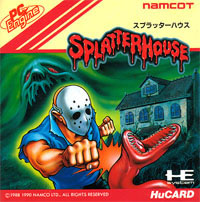 There's not enough snake punching in the new Splatterhouse!
The first three games may not have been masterpieces, but I would had to see their name sullied by yet another failed attempt to bring a 2D game into the 21st century. Even if the concept is sound, it's troubling to see so many different developers take a crack at the game. Could it be that the world isn't ready for another Splatterhouse? Or maybe it's just me not seeing how this game can be anything but middling. Either way, I want nothing but the best for Rick and his travels inside of this brand new Splatterhouse.
What Could Go Wrong?
The game could go from one developer to another, then suffer long delays and terrible financial problems. Oh wait ... that's EXACTLY what has happened to Splatterhouse. The truth is, everything that could go wrong already has, so all this game has to do is not completely suck. I worry that the bar has been set so low that I'll be pleasantly surprised by just about anything Namco ships.
Kirby's Epic Yarn (Nintendo)
[ Console: Wii | Last Installment: Kirby 64 (N64) ]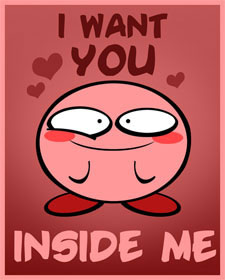 Happy Valentines Day?
How Long Has It Been?
Even with all of his potential, Kirby has never been one of Nintendo's top tier characters. Instead he's had to play second fiddle to Mario, Link, Samus and dozens of other lesser characters. This will be Kirby's first console adventure since Kirby 64: The Crystal Shards came out in 2000. However, in the last decade we've seen several portable offerings, such as Kirby & the Amazing Mirror (2004), Kirby Canvas Curse (2005) and Kirby Squeak Squad (2006).
Why Should You Care?
I don't care how cold your heart is, you will melt at the mere sight of Kirby's Epic Yarn. Even if you're not one of those people who normally cares about art direction, Nintendo is about to make you a believer with this yarn-centric 2D platformer. Much like Donkey Kong Country Returns, your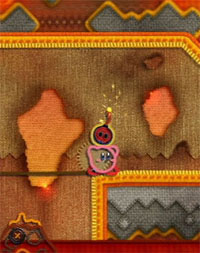 Kirby's Epic Yarn is the best looking game Nintendo has produced in more than a decade!
excitement over this product may have more to do with Nintendo's track record than anything they showed off at E3.
Based on what we've seen so far there's a genuine reason why you should be excited. In just the bits Nintendo has showed off we've seen how you can literally unstitch the backgrounds, pull things closer with your yard lasso and even shrink areas of the level to make things more accessible. And all of this happens while you're treated to some of the best graphics the Wii has to offer. You've never seen a 2D platformer like this, and the fact that I can say that in 2010 is reason enough to warrant excitement.
What Could Go Wrong?
While it's usually a safe bet to bet on Nintendo, they are not without developing a few clunkers. I also fear that we've seen all of the coolest elements in the admittedly awesome E3 demo. And let's not forget that past Kirby games have suffered due to a lack of challenge. Will this new Kirby game be so easy that it's no longer fun? I certainly hope not, but could see it happen.
Mortal Kombat (Warner Bros. Interactive)
[ Console: PS3/Xbox 360 | Last Installment: MK - Armageddon (PS2/Xbox) ]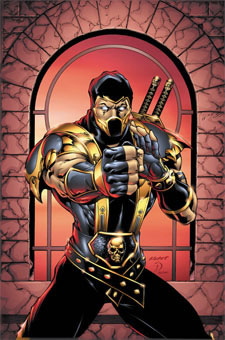 Just don't make it Teen rated this time around!
How Long Has It Been?
It's been a long, strange journey for Liu Kang and the rest of the Mortal Kombatants. After flailing around for awhile trying to figure out the whole 3D thing, Mortal Kombat ended up fighting a bunch of DC superheroes. Wait ... what? Yeah, Mortal Kombat went from being the bloodiest game around to being a T-rated fighting game that had you fighting Superman and Wonder Woman. Seeing as I don't plan on acknowledging Mortal Kombat vs. DC Universe as a real installment, the last 2D Mortal Kombat game was Ultimate Mortal Kombat 3 in 1995.
Why Should You Care?
Forget about the inconsistent 3D installments, this brand new Mortal Kombat is a return to form. For the first time in a decade, it really feels like the developers know what they need to do. For one thing, they've returned the franchise to its 2D roots. They also know that they need to offer a lot of characters, tons of secrets and a story that people actually care about. And based on what we saw at E3, that certainly seems like what Ed Boon is doing.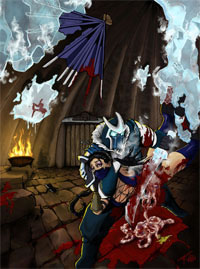 What do you mean Mortal Kombat isn't a comedy?
If that's not enough for you, consider the fact that fighting games are suddenly hot again. Capcom's Street Fighter IV proved that you could bring a 2D fighter into the 21st century and still sell a ton of copies. This liberates the developers from having to turn Mortal Kombat into what it's not, such as a mediocre 3D game. If they are able to bring the ultra violence back and still hide a few things from nosey gamers, then this will be the first must-own Mortal Kombat game in 15 years. But never underestimate Ed Boon's power to screw up his beloved franchise. We've seen him do it before, and I'm sure he'll do it again. Keep your fingers and arm swords crossed, because it's anybody's guess how Mortal Kombat will shake out.
What Could Go Wrong?
Mortal Kombat is its own worst enemy. The original series suffered the moment that Ed Boon started taking the series too seriously. The fact that he openly lambasts "Friendships" and other gimmicky finishing moves worries me, since a big part of the series is having fun with its own cheesiness. If this new Mortal Kombat is too dark, I fear that it won't be the guilty pleasure the other games were.
The 3rd Birthday (Square Enix)
[ Console: PSP | Last Installment: Parasite Eve 2 (PS1) ]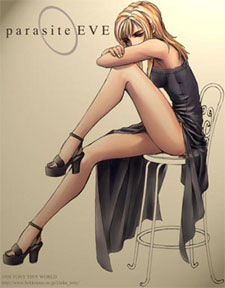 The 3rd Birthday proves that Square Enix is making sequels at random. Could Vagrant Story 2 be next?
How Long Has It Been?
Before going and writing about this brand new Parasite Eve sequel, I was under the impression that it had been a dozen or more years. It feels like ages since I played through Square's cinematic PlayStation 1 adventure game, yet it turns out that Parasite Eve II was released only ten years ago. Where has the time gone?
Why Should You Care?
The 3rd Birthday may not have the name recognition of a Final Fantasy or Kingdom Hearts game, but it's by far the most exciting Square Enix game on display at E3 2010. I don't care how good Dragon Quest IX or Kingdom Hearts: Birth By Sleep are, this new Parasite Eve game is an unknown quantity. The first two games were fun, but unfocused modern day adventure games. This new game, on the other hand, appears to refocus the franchise and set it in a brand new direction. Whether or not it turns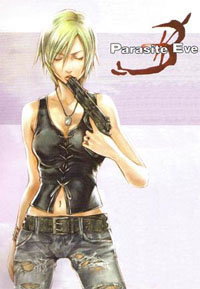 Put that gun down and be original, Persona 3 did that years ago!
out to be any good has yet to be seen, but I like the direction the game is headed so far.
The 3rd Birthday is not your typical third-person shooter. Instead of playing as the same character from start to finish, your protagonist has the ability to leap from person to person. This allows you to quickly take higher ground, to get out of tricky situations and take hold of brand new weapons. The potential is there, all Square Enix has to do is deliver a solid action game that both honors the past and gives us something brand new. This is a company that has demonstrated they can develop unusual adventure games, is it too much to ask for a return to form from Parasite Eve?
What Could Go Wrong?
It's troubling that Square Enix seems to be downplaying the fact that this is the third installment of the Parasite Eve series. They have even gone as far as to drop the words "Parasite Eve" from the title, which is more than a little curious. Could it be that Square is distancing themselves from the original franchise, or maybe they feel like nobody actually remembers this adventure franchise. Either way, I worry that not enough people will give this game its due and we'll have to go another ten years before Square decides to take a chance on an obscure sequel.
Pilotwings Resorts (Nintendo)
[ Console: Wii | Last Installment: Pilotwings 64 (N64) ]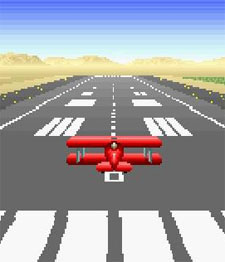 Pilotwings sure was impressive at the time!
How Long Has It Been?
For awhile it seemed like Pilotwings would always be used by Nintendo to introduce their brand new hardware. Early Super NES adopters were impressed by the scaling and rotation found in the original Pilotwings, while Nintendo 64 owners got a taste at just how impressive the 64-bit console really was. However, Pilotwings has been missing in action since the 1996 release of the Nintendo 64.
Why Should You Care?
Pilotwings has always been a fantastic tech demo; even gamers who genuinely loathe the series will admit that. The Super NES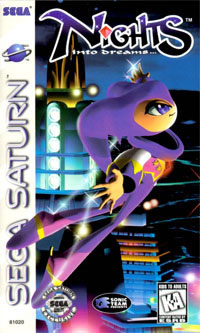 Pilotwings conclusively proves that NiGHTS was NOT the first game to let you fly, contrary to what Sega says!
game may not look like much by today's standards, but it was the most impressive game I had ever seen at the time. The same goes with Pilotwings 64, the perfect companion for Super Mario 64. The amazement may wear off shortly, but there is nothing like the first time you lay your eyes on a Pilotwings game.
Here's hoping that the same holds true for Pilotwings Resorts, a Nintendo 3DS game that will hopefully take the franchise in a brand new direction. It will be interesting to see what Nintendo does to make this franchise relevant again, especially now that gamers are no longer impressed by polygons and open environments. This is the chance for Nintendo to give the franchise real legs by making it a deeper experience, one that introduces expanding events and multiplayer modes. If the game is as listless as the first two games, then you may want to temper your excitement accordingly.
What Could Go Wrong?
I fear that this new Pilotwings game will be more of the same, a great showpiece game with terrible aging problems. The trick is to develop this franchise into a real game, not just a tech demo for your new hardware. So far Nintendo hasn't been able to do that with Pilotwings, which does not bode well for this Nintendo 3DS game.