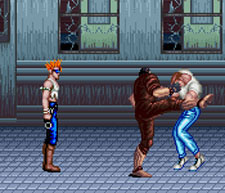 Things just keep getting better!
1:45 P.M. -
We finally make it to the end of the line and head back up out of the subway. Yet more fighting ensues.
2:05 P.M. -
While getting a quick bite to eat at the 7/11 on First and Washington, the Mayor noticed an unattended blue car. He moseyed over the car and decided that the correct course of action was to beat it up. I'm not kidding. There in front of me was the Mayor of Metro City using his fists to flatten this small blue Japanese made car. And again I wonder how this guy was ever elected. When he was done bashing the car up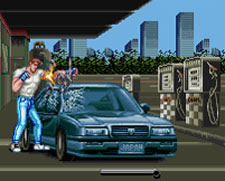 "Oh my car!"
he walked away with a satisfied look, unfortunately the guy who owned it was a few seconds too late. We left the 7/11 with the sounds of that poor young man and his destroyed car. I worry that the sound of him crying and yelling will never leave my head. The Mayor really needs to come to grips and take a few anger management classes.
2:15 P.M. -
I try to talk to the Mayor about what just happened back there. I tell him that I can't get the thoughts of that guy out of my mind, his annoying voice yelling out "OH! MY CAR!!" How does this not trouble him, I ask the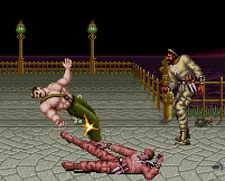 Mad Gear sure does know how to recruit identical twins!
Mayor. Why would somebody even do that? He looks at me with contempt, I know that he's serious about getting his stripper daughter back, but I still don't understand why he would beat up somebody's car.
2:30 P.M. -
We decide to cut through the city park on our way to the Uptown District. I'm starting to notice something odd about all of the people we come in contact with; they all kind of look the same. For example, back in the subway the two of us took on this crazy looking Andre the Giant-type wearing bright pink pants. Yet here we are, miles away from the subway, and I swear to you that I'm looking at the guy's twin brother. Only instead of wearing pink, he's wearing bright green pants. They are the same pants, mind you; they are just a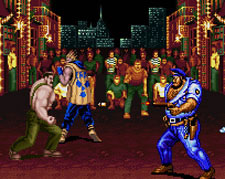 You would think that a fight between a gun carrying police officer and the Mayor would be a much bigger deal!
different color. This happened with another guy, too. We fought these two big fat guys that kind of look like the dude in that Borat movie, and now there are two more of them. In total I think we've only seen four or five different guys, yet they are constantly repeating with different colored outfits. Is this my mind playing tricks on me? I haven't been beaten up that badly, have I?
2:55 P.M. -
Up ahead of us is a big night club with a huge bouncer at the door. I suggest we skip past it and keep on the road to save my stripper girlfriend. As usual Mr. Stubborn doesn't listen to me and charges right into the club, it makes absolutely no sense to me but I follow. I wish I hadn't. The moment I enter the club, I am jumped by five guys, all wearing exactly the same clothing. As I take them down one at a time I notice that the Mayor has been knocked out and is being dragged downstairs. I know I need to do something quick, but I don't know what. Perhaps I should go and rescue him, but I keep getting attacked off screen by the same looking guy over and over.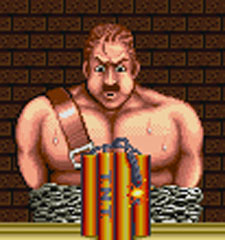 Ladies and gentleman, I give you Haggar's "O" face!
3:05 P.M. -
Okay, this is really starting to piss me off. All this drama could have been avoided hours ago if we just took my car, we could have drove right to the Uptown District and taken on Mad Gear on their home turf. Yet here we are hours later and we're not even close, and dammit I still need to find where they stuck the Mayor. WHO ARE THESE PEOPLE? Oh, and worst of all, I'm missing Dr. Phil. I hate missing Dr. Phil. I get stabby when I miss my daily Phil pill! Now where is this guy ...
3:10 P.M. -
Oh, here he is. He's in a cold basement tied up with a stick of lit TNT right next to him. TNT? Who the hell blows up their own house? Isn't that going to destroy the foundation and, I don't know, alert the cops? And ew, that's also really freakin' gross. I mean, who is going to come down here and clean up all of the bits and pieces of the Mayor. Seriously, who does something like that? While asking myself that I realize that I don't have much time, so I throw my trusty knife at the TNT and defuse the situation ... literally.