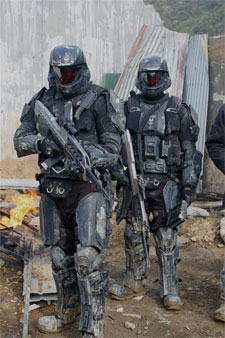 Yay, more space marines!!
Halo: ODST (X360) -
Remember the good old days when Bungie was talking about how many new maps and features they were going to add to Halo 3 via downloadable content? Remember when Bungie said they were done making Halo games and that Halo 3 was the end of the story? Well, they lied. Sadly Halo 3's DLC has been scarce at best, and here they are going right back to that money making machine. Worst yet, this terribly named Halo "expansion" isn't even a full game. Bungie is already warning people that this game will be far shorter than previous Halo games, which suggests an adventure that is no more than four or five hours long. Is this really the way we want to remember the Halo series? Why not just offer this as a part of Halo 3?
Halo Wars (X360) -
Speaking of Halo ... this is the non-traditional Halo game that Microsoft used to be excited about. Remember the good old days when Peter Moore was bragging about how innovative the project was and how it was going to revolutionize the way people played real-time strategy games on a console. Well, Microsoft as a whole
If Heavy Rain doesn't end up being a game about the seedy underworld of horse shoe throwers, then I'm going to be extremely disappointed!
has largely stepped off of those claims. Oh, and they disbanded the company working on the game. With Halo: ODST also hitting the Xbox 360 this year, it makes you wonder how many Halo fans are going to be into the mythology enough to buy this drastically different game. I suspect it won't be many.
Heavy Rain (PS3) -
Shouldn't we be a little concerned that this game has been in development for this long and still we have no idea what kind of game it is? Oh sure, the graphics are lovely and the woman's face is extremely realistic (as well as a little creepy), but what exactly is it? Also, why did we give Killzone 2 so much crap for their target video when the only thing of Heavy Rain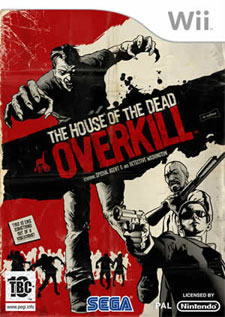 The game may be generic and lame, but the box art is inspired!
we've seen has been pre-rendered cinemas? What's that double standard about, media? But I digress, my theory is that people will go all the way through Heavy Rain and still have no clue what kind of game it is. Part of me hopes that it's a Rock Band-style music simulator. But that's just me.
The House of the Dead: Overkill (Wii) -
For a short time in 2008 it felt like the Nintendo Wii was poised to help bring back the light gun game genre. Between a new Resident Evil shooter, a House of the Dead compilation and Target: Terror, the Wii seemed to be the console of choice when it came to light gun games. And then we got our hands on those games and remembered how shallow light gun games are. Worse yet, we realized that the Wii remote isn't as quick or accurate as you would want, something that can really take you out of the experience. There's also the problem that in order to use the Wii remote, you have to have a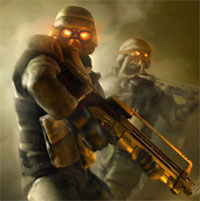 What can brown do for you?
cursor on the screen. So it never really feels like your shooting a gun, instead it just feels like you're using a wireless mouse to aim. That problem isn't exclusive to those three games, these are the things we'll be saying about The House of the Dead: Overkill when it's released later on this year.
Killzone 2 (PS3) -
Hey look, it's another brown shooter! Wait; didn't we just have two full years of nothing but brown shooters? And isn't this the sequel to that really disappointing PlayStation 2 shooter? See, that's the problem with the hype of this game. Sure Killzone 2 looks pretty, but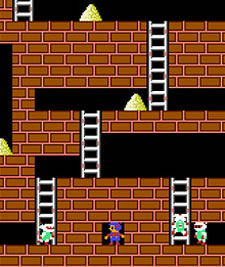 I don't care how good the new Lode Runner looks, it's still going to be another version of a lame game!
so far it has done nothing to separate itself from the dozens of other similar first-person shooters. Does it think that the pretty graphics are going to pull it through all by itself? So far the only good thing the Killzone franchise has done is give us a solid PSP action game, but that wasn't trying to be a first-person shooter. Besides, aren't we all just a little sick of brown shooters?
Lode Runner (XBLA) -
It's going to look amazing, it's going to sound great and there are going to be some cool online features. But let's face it, at the end of the day it's still going to be Lode Runner. Yes there are people out there that still love this game, but those people don't know what they're talking about. Because Lode Runner has always been a bad game. You heard me, it tries to be a fun game, but it's bogged down by a completely ludicrous combat system. Worst of all, companies throughout the years have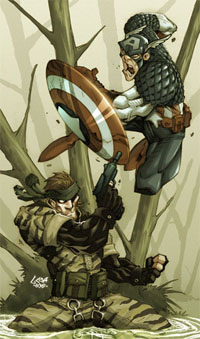 I would probably rush out and buy a new iPhone right now if I could get a copy of Marvel vs. Metal Gear!
tried to make Lode Runner relevant to modern gamers. So what makes you think that this Xbox Live Arcade update is going to finally be the game that makes everybody love Lode Runner?
Metal Gear Solid Touch (iPhone) -
People were understandably excited when they started to hear about Konami working on an iPhone Metal Gear Solid game. After all, Konami had announced a faithful port of the original Metal Gear Solid for Japanese cell phones; could we be seeing something similar for the iPhone? Nope! Metal Gear Solid Touch isn't a traditional Metal Gear game; instead it's a spin-off that has you shooting people in what is essentially a portable light gun game. It is, at best, Lethal Enforcers III: Metal Gear. A bad guy pops on the screen, you shoot him. Another one pops up, you shoot him, too. Over and over. Hey Konami, how much are you going to charge to recycle your crummy arcade games from the 90s?
Noby Noby Boy (PSN) -
Look, I loved Katamari Damacy. And while the sequels were never as innovative as the original, they were still worth playing. When I heard that the creator of Katamari was making a new PlayStation Network game I couldn't wait to see what it was. Unfortunately, my excitement was all for naught. While I'm sure Noby Noby Boy will appeal to somebody, the fact that it's more of a toy and less of a game sends worried thoughts running down my body. The last time a company said that we got Wii Music and Wii Fit. I'm all for toys, toys have their place, but let's not forget that this industry is the video GAME industry, not the video TOY industry. I'm just saying.