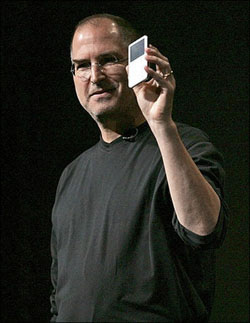 Steve Jobs has done a lot of important things in his life, but creating the original circuit board for Breakout is not one of them!
In a separate presentation, Allan Alcorn told a tale that corrected a mistake I had made a couple weeks back when reviewing Woody Pop for the Sega Game Gear. In that review, I credited Steve Jobs for designing the first circuit board for Breakout, but Alcorn set the record straight on that myth. Apparently, Jobs has always been a better businessman than engineer, so when Atari promised Jobs $50 for every chip he removed from the original Breakout circuit board, Jobs outsourced his task to Steve Wozniak (referred to throughout the lecture as "Woz".) In the end, however, Jobs got the money and the credit, thus proving his genius.
Making his first public appearance since 2002, John P. Sohl shared the Intellivision panel with Dave Warhol, Glyn Anderson, and the aforementioned Robinson. While celebrated for Astrosmash and B-17 Bomber, Sohl kept referring back to his work on PBA Bowling with great pride. He was slated only to do the sound on the game, but because fellow Mattel programmer Rick Levine was such an avid bowler, Sohl felt pressured to learn the ins and outs of the sport. He recounted going to bowling alleys with sound equipment and tirelessly trying to emulate the sound of falling pins. Unfortunately, the distinctive sound could not be replicated (even though he sought the help of the Mattel sound division which was responsible for all those talking Barbie dolls). Later, in an informal interview, he told me that in order to please both Levine and the PBA (which had graciously lent its title to the game), he worked ceaselessly to make the game as accurate as possible, applying different types of ball spin, curves, and even allowing the player to throw a "Brooklyn" or a "Jersey" - a ball that approaches the pins opposite of what a rightie or leftie is expected to throw.
Impressed with the immersive research done on PBA Bowling, I asked Sohl if he usually approached his games with this level of investigation. Apparently, he did. When making B-17 Bomber for the Intellivoice, he visited several hangars where he could study the cockpit of the titular craft. On his desk, sat a Mattel-made model "spitfire" to represent enemy fighters because he "couldn't find a German Messerschmitt [Bf] 109." He would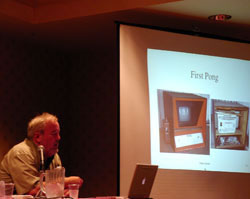 I can only assume that this panel discussion is more interesting than it looks!
hold the model at different angles to help him give shape to the pixilated fighters as they approach the B-17. Clearly, Sohl loved his trade. His stories were not only enlightening, but also delightfully amusing. On the panel, he recounted how he joined Mattel because he was wanted to make toys after years of depressing work at a company that studied dead, cancerous rats. He talked of how once there, Mattel told him to blatantly plagiarize Atari's Asteroids (if the source code is different, is it really plagiarism?). When he did make an asteroid blasting game (in his own vision), he named it simply "Falling Rocks" which the marketing department thankfully renamed Astrosmash. Later in his public ruminations, he mistakenly referred to the Mattel home computer as "The Adam" instead of "The Aquarius" which is quite funny because it reveals how much enthusiasm he had for the new system. This change in direction at Mattel prompted Sohl, like many of the other panelists at the CGE, to move to Activision, where not only was he promised to have his name on the box, but where he was told, "when you finish your first game we'll give you a new car."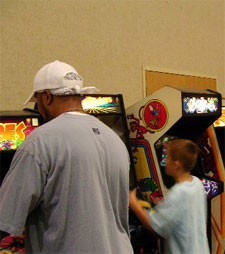 It wouldn't be a classic game expo without some real life classic games to play!
While both the Intellivision and Atari panels highlighted the difficulties of working for large corporations, it seems that the Atari people had a harder time coping with management, especially after the takeover of Warner Communications. According to Alcorn, Warner saw the Atari 2600 as an "evergreen product ... like Burlington fabric." They saw no need to evolve or grow, and thereby, crashed Atari into the ground. Likewise, Mattel saw no need for risk after the arcade crash of '83 and dampened the spirits of Intellivision workers when they began axing projects. (Luckily, Dave Warhol resurrected the company with INTV in 1984). Activision, on the other hand, outlived both companies.
As the first third-party developer in video game history, Activision bridged the gaps between competing consoles in the 1979 by luring programmers away from Atari and Intellivision and giving them the attention they deserved. Without the aid of a union, they were now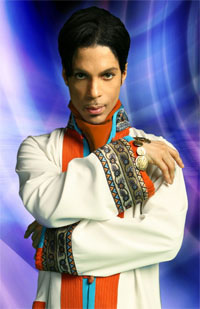 If for some reason you got bored talking about classic games, the CGE website recommended the local Prince concert!
given the creative space and accommodations not made by larger, more diversified companies. Additionally, Activision created competition, which (capitalism dictates) leads to better products. On its influence, Steve Wright talked about how the upstart company trumped Atari with better graphics. "Activision exploded in our face," he explained, "and the marketing department went ballistic. Because of them we had to come up with a round ball." Since it was not a subsidiary of a larger business, Activision could devote all its energy toward gaming, and it is clear from the comments made in all the major presentations that it was a boon to the industry. Even when Activision co-founder David Crane designed games for other companies, his name was still headlined the cover of the box. Activision made his name as marketable for gaming as Cecil B. Demille's was for movies - an amazing feat for a fledgling form of media.
On Sunday evening all the panels had concluded and many fans returned to the showroom to make that one last-minute deal. Email addresses were exchanged followed by hearty handshakes. A princess was saved, and evil menace was thwarted, and a peaceful calm returned to the kingdom. The sadness of an unplugged coin-op screen sets in as all you can see in the black glass is your own reflection, but then comes the joyful realization that you have a suitcase full of carts and suddenly your home seems the happy sequel to the event.
Overall, CGE appealed to gamers of all ilks: Collectors, homebrewers, athletes, or the simply nostalgic. It fit the bill as both a conference and a convention; it was about both product and production. While CGE didn't have the glit and glam of an E3 or Otakon (the only scantily clad woman was Ms. Pac-Man in her modest bowtie), it did give many retrogamers a relatively inexpensive forum to talk about their passion with those who turned a few meager bits into beauty.