AREA 51
Concept:
Sprung out of a two generation old paranoia of anything from outer space, Area 51 is the atypical man vs. alien storyline with plenty of guns and blood. You take control of ... heck, it doesn't matter who you are, just as long as you are able to blast your way through level after level of disgusting extra terrestrial beings that only seemed to get bigger and more disgusting.
In the Present Day:
For a good part of the 20th century kids and adults alike were frightened by little green men coming down and running experiments. Our popular media perpetuated a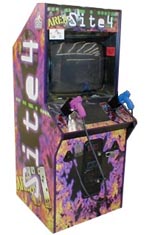 stereotype that seemed to indicate that anybody not of Earth must be hostile and angry. With each new sighting, not to mention the improvement of technology, new generations of humans were learning to fear anybody and anything that doesn't look like them.
But these days' people seem to be more interested in terrorism than they do aliens. With CNN, MSNBC, and Fox News talking about terrorism 24 hours a day, every day people are being scared that a plane will be hijacked, a building might get bombed, or more soldiers will die in foreign wars. Who has time for aliens ... or at least the aliens from outer space?
Proof of this can be seen in an overall drop in science fiction movies and games. Sure there are still games like Halo and Half-Life, but there's no denying that most companies are interested win anti-terrorism (and crime) than space and little green men. But I'm sure they'll make a come back eventually.
Relevant?
In this world gripped with terrorism, the idea of an alien invasion just isn't as scary as it once was!
NIGHT TRAP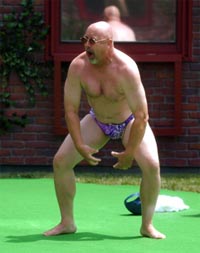 Concept:
A government agency is on a mission to bust up a gang of ... vampires. So the best thing they could think of doing was to send B-list actress Dana Plato into a house filled with a half dozen cameras, and, you guessed it, vampires. Night Trap defied all logic by allowing players to monitor various rooms in the house looking for suspicious activities and then trapping them when they walk over a big net. I would hate to be the person picked for this assignment.
In the Present Day:
Throughout our history surveillance has often come with bad connotations, generally connected to the invasion of our privacy and civil rights. But Night Trap didn't posses those hang up, instead it embraced the format and offered a chance to spy in on a group of youngsters who are in serious danger ... but don't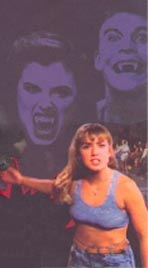 know it. Sure it was a terrible game that only was popular because of political outcry, but in 2005, Night Trap seems more relevant than ever.
The proliferation of spy cams started with the internet, but has not gone unnoticed by TV execs. Big Brother takes the Night Trap theme a few steps farther by adding challenges, eliminations, and more. On TV the show is pieced together from several days worth of material; but online faithful viewers can watch things happen in real time, from whatever camera they choose. I assure you, the similarities to Night Trap are not lost on me.
Last season Big Brother added a brand new surprise for anybody lucky enough to win the "head of house" competition. Not only does the player get his/her own room, the power to put two people up for eviction, and a basket of goodies ... but they also get a widescreen TV that allows them to see what else is going on in the house. Now the players will be able to overhear private conversations and see things they were never meant to see. All these elements seem to indicate that the world (or at least some TV shows) are becoming more like Night Trap than anything. What that says about our television taste is up to you to decide.
Relevant?
Sadly the idea of people spying on you in the guise of protection is here to stay, so Night Trap is definitely relevant!