Rule Three: Stake Out a Good Place to Eat ... and Stick With It!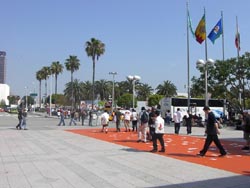 There are a lot of great places to eat in L.A., but after a long day at E3 you'll find yourself craving anything, as long as it's close!
I know we all like variety, and we enjoy the adventure of finding new places to feed our ever growing appetite ... but after you've been on your feet all day carrying two bags full of press releases, posters, shirts, and hand outs, you'll thank yourself for finding something simple you know is just around the corner.
The day before E3 should be used to fully understand your surroundings. Where is the best place to eat going to be, where can I find the bottled water dispenser, where are the fire exits, and so on so forth. If you're lucky, you will even find a few stores you like to spend some hard earned cash at.
For me it was a video game store just down the street from my motel, a store simply called VIDEO GAMES. While I wasn't in the buying mood, I am always interested in seeing what rare items an out of the way video games stores might have. And while I was impressed with his stash of Sega CDX units, and his display of Power Gloves, I was both shocked and amazed by his $100 Nintendo Entertainment System.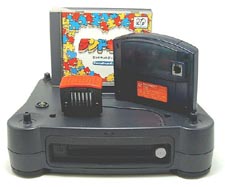 One is only left to wonder how much a clerk like this would sell a Nintendo 64DD for ... if he knew what it was, of course!
Not that it's not worth that ... 15 years ago!!
I questioned why this system was so expensive, yet the Nintendo 64 was going for a mere $30, and he concluded that the N.E.S. is a rare system. Not in any mood to argue with the man, I decided to ask him about E3. I assumed that since the event was being held just down the road from his store, and he had magazines that had obviously been read (that were still on sale), he must know somebody going to the show. Not only did he have no clue about E3, but acted extremely insulted when I implied it was the biggest video game trade show in the United States (and he SHOULD know something about it).
He seemed noticeably taken aback when I mentioned that I owned every system in this current generation, as if it was something that was too expensive to even conceive of. These days you can buy two systems for around $350, and the other one used for $100, something that isn't out of the question.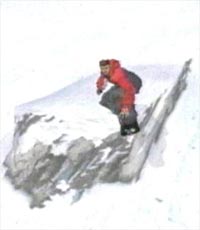 Owning all three systems makes sense, especially with games like 1080 Degrees coming ... not that we're going to talk about it!
Heck, in this day and age you almost need to own all three systems, as each have their own strengths and weaknesses. And there's at least one killer app worth buying for every system out there right now.
I realized it would be a lengthy fight trying to explain to him why I traveled so far to attend a video game show he's never even heard of. So I decided to keep on moving in order to find something good to eat.
There's a nice feeling you get when you find the perfect restaurant in a new city. But if you can't find that special place, you need to just do what you did last year. In my case, that was eating at the same small Italian restaurant every single day I was at E3 2002.
When you've found a good place to eat, gathered your thoughts, unpacked your belongings, and watched more TV than you probably should on a "vacation", it's time to get a little shut eye. The first day of E3 is no simple task, and it's important to be as ready as one can for such an experience. Set the alarm, turn the light off, and get ready to dream about all the games you'll be playing tomorrow.
Day One: Where do I Even Start?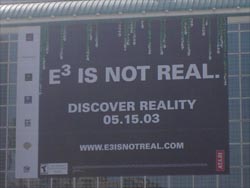 HOLY CRAP! Somebody should have informed me of this before I spent all this money!!
Now that I had everything squared away, it was time to actually attend this huge event. After a good hearty breakfast, and a quick check of the news, I was off to find my fame and fortune at the one event everybody who is serious about gaming is about to attend. Ladies and gentlemen, I was ready to tackle this convention like it was a teenager at R. Kelly's mansion.
Problem is, day one can be kind of a bummer. Oh sure, it's the first time you have a chance to play the games you've been anticipating, but let's face facts here, that's not going to happen without some pushing and poking. On the first day, everybody's looking for that one game they've been losing sleep over for half a year ... and it's probably the game you're waiting to play, too.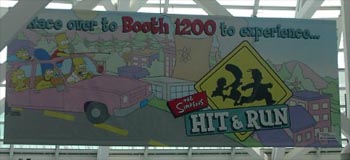 If you came to be extremely disappointed by GTA3 clones, you're in luck!
Now, don't get me wrong. If you're taste is the Simpsons: Hit & Run, or the next offering from Barbie or the Olsen twins, the chances are pretty good you'll have very little problem playing the game you want, whenever you want. But if you were looking to finally get your hands on the Gran Turismo 4, Mario Kart: Double Dash!!, or any of the other highly anticipated sequels at the show, you were going to have to pack a whole lot of patience. Which leads us into our fourth rule of E3 ...
Rule Four: Be Part of the Media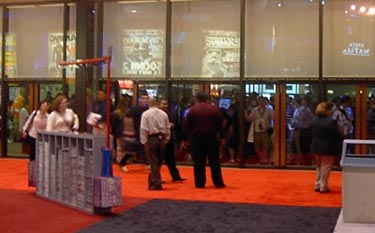 See those people? They REALLY wanted to be where I was. A few were so upset was taking picture of them, they followed me back to my motel and taught me how to take pictures!
Oh sure, most of the time people hate us. And we have a way of promoting things that are not always in our best interest. And a lot of us can even be accused of placating to the whims of advertisers. But who cares about that?? At E3 the media is treated like royalty.
While the industry types, people representing stores, distributors, and everybody just trying to sneak in, line up at the door to get in, the media is open to roam the show floor. Of course, we really only get an hour of unimpeded gaming ... but that's an hour most of the attendees were waiting or getting their bags searched.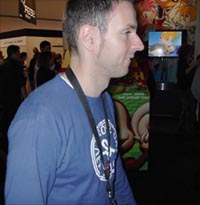 No matter what they look like, video game journalists everywhere love the first hour of unimpeded gaming!
This year offered a lot of big titles that were only shown behind closed doors, or at least in theater rooms. Games like Halo 2 and Half-Life 2, titles that people are still talking about, weeks after the show. Games that were a must see, even if it meant waiting in line for over an hour.
But the media is often able to make appointments, so there is no waiting (or at least, less waiting). Savvy journalists can play the Prince of Persia game to their hearts content, and then head on over to Half-Life 2 when it's time, instead of taking hours away from game playing just standing around and waiting for the next big thing.
While Half-Life 2 and Halo 2 were shown to the public (that was willing to wait in line) some of big titles weren't accessible to the public, so making media appointments was essential. Sony Online Entertainment's booth, which included the sequel to EverQuest and the expansion pack to the PlayStation 2 title, was completely closed off, unless you had a media badge.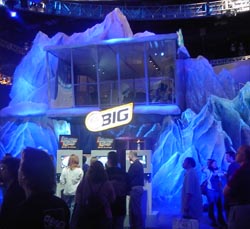 Hopefully the mountain in SSX3 will be bigger than this man-made display!
Perhaps the most impressive title shown behind closed doors was SSX3, the online sequel to SSX and SSX Tricky. The game features an entire mountain to explore, with thousands of places to see, and dozens of tracks to race. What I was able to see of the game left me impressed, and wanting more. The game should be good enough to make most people forget that there never was an SSX2 (Tricky was always advertised by them as the "expanded" version of SSX).
If all that wasn't enough, the job also gives you a reason to be invited to the press events Sony, Nintendo, Microsoft and other big players throw before E3 even starts. Last year Sony announced the console war had ended (with them as the victors), and this year's announcements were just as shocking (but thankfully not as arrogant).
I'll confess, even though I enjoy a lot of games on my GameBoy Advance, I am not its biggest fan. There is just something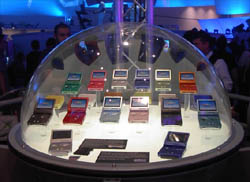 One has to wonder if Sony will have this many colors for their upcoming portable!
unnatural about a portable that really has no competition whatsoever. A portable that is able to play games that were released over a decade ago, and still sell for dirt cheap. I hate to be the pessimist here, but there's something unfortunate about Nintendo having a monopoly on the portable marketplace.
Sony is banking that more than a few people feel like this, as they announced a brand new portable at their pre-E3 press conference. With the PSP (PlayStation Portable ... though I personally think "Pocket" sounds better), Sony intends to do everything Nintendo has done, just a whole lot better. It'll be able to process 3D graphics, has USB support, plays small mini-DVDs, and can potentially hook up with the worlds most popular game system.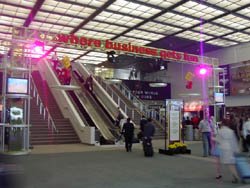 That staircase leads to the media rooms, there's water up there ... but it's very, very warm!
Granted, neither Microsoft nor Nintendo had anything quite as surprising to reveal, but their presentations were still full of big titles and even bigger egos. If anything, these press conferences are a great waste of time, since they usually parade the biggest game developers, and have them trying to make jokes, playing games with other developers, and more. And hey, they give out nice bags and cool backpacks to hold their press releases, so you get a collectible, too.
Without a doubt, being part of the media is tops when attending E3. But what if there's no way of attending using the media as your catalyst? You could probably argue that this last rule has been pretty useless, especially if you can only get in because you are working at a GameStop.com in the mall. Don't fret; there are plenty of rules left to get to, some that even apply to minimum wage mall employees.
Rule Five: Learn to Fake Interest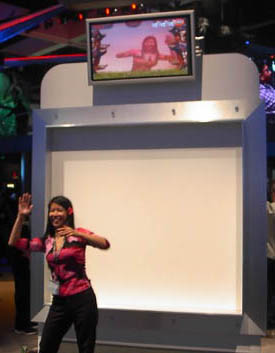 For everybody who absolutely MUST look at themself when playing video games ... I give you Sony's horrific Eye Toy!
Without a doubt there will be a number of games, accessories, and people you have no interest looking at or even being around. It is key to your performance for you to learn how to effortlessly look as if you care and love the idea ... while still loathing every second and wanting to flee as quickly as possible.
Take Sony's newest Eye Toy, which a Sony rep talked to me about for a good fifteen minutes. She did her best to make me love the product, but there was no way she (or anybody) was going to get me to enjoy playing a game where I have to look at myself the whole time. While I'm sure there are a great number of people who are so arrogant enough to want a game staring them, but I am not one of those people.
Now don't get me wrong, the device certainly has potential. With the use of the Eye Toy you will be able to map your face to a character in Tony Hawk's Underground (which was called T.H.U.G. everywhere, even though as an acronym that doesn't work). Using it to put your face in a skating game, or first person shooter, or something like that makes sense to me, and so the little device isn't all bad.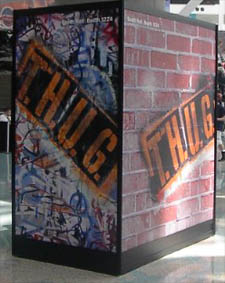 Thankfully it's not Shawn Murray Underground, SMUG just doesn't have the same ring to it!
But for some reason I don't see Tony Hawk's Underground as Sony's wanted use for the 'Toy'. Instead I fear that Sony wants to tie it in with a whole series of games that essentially star you. A whole generation that thinks character development is just another way of saying "attitude". A time when even more people want to be on TV. Oh my God, Sony has made the first Reality TV video game!!!
Anyway ... avoiding the Eye Toy is just one of the good aspects of faking interest. It's also needed when dealing with really slow talking booth representatives. It's even worse when they talk slow and have a thick accent. For example, listened to a Konami rep drone on about Castelvania for what seemed like the better part of Thursday. This would have been fine if I was able to get my questions answered, but instead he felt I should know the story behind Castlevania, who the characters were, and other things I'm sure I would have picked up from watching the opening cinema.
Because of this, I was unable to ask questions like: Will your character be building experience to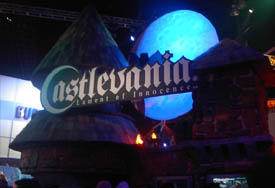 Some people don't like the fact that Castlevania is going 3D, but I think we can all agree, at least it's not cel-shaded!
raise his levels, like in the past Castlevania's? What sets this game apart from the similar looking Devil May Cry? Or even, why on Earth did you make this game 3D??? (Coincidentally, I did get my questions answered on Friday, and they are, in order, No, It'll be more about exploration, and frankly, I have a feeling I will never get an adequate answer for that question.) Problem is, it's not always easy to see who to avoid. And it's even worse when it's a game I have some question about. But what makes it REALLY tragic is when they remember you. Oh sure, you thought you escaped once and you would just come back and ask some other guy the next day ... but not so fast. Because this booth apparently only has one guy manning it, and he remembers you!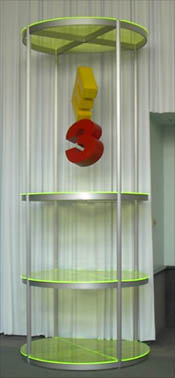 The Simpson's game is so bad, this E3 sign was more interesting!
The worst situation of them all, though, is when you find somebody who is both a slow and monotone talker, but also representing a product that is absolutely, positively no fun at all. A game so poor, it takes everything in your power not to shake that person and ask them why they are inflicting pain and suffering on innocent people. A game like the Simpson's Road Rage!
Now I have nothing against the Simpsons (unless we're talking the last few seasons), and I certainly have nothing against Grand Theft Auto III ... but this is a combination that should never have even been considered. Of course, it's the pseudo-sequel to Road Rage, which in turn was a rip off of Crazy Taxi, a game that now seems like a perfect fit in comparison.
If the game wasn't bad enough, the acting job by the rep was certainly not enough to sell me on this crazy concept. In his five minute long speech about the game (which mysteriously lacked any breathing or blinking) the rep tried to explain the many good things about the game. Like, how the game is now open to roaming around, or how you will control a lot of people, and steal just about every car you see. But the more he talked, the most I zoned out and questioned how I got stuck in a situation like this. I started to wish I could trade places with the booth babe across the way, the one who was being crowded by a gang of drooling Neanderthals. Now that I think about it, maybe this Simpson's lecture wasn't so bad after all.
In fact, I'm making this all out to be a very horrible event. When in fact, there were plenty of surprises that I did not have to fake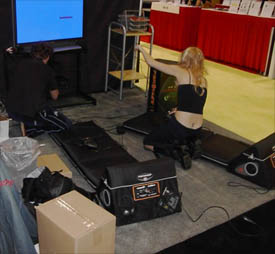 I'd rather shoot myself full of monkey pox than have to sit through another story about a hot dog eating conest!
anything around. Games like Mario + Luigi, a wacky little Super Mario RPG-style game for the GameBoy Advance. It came out of nowhere, and if there's any surprise, it's that the game was only shown on ONE GameBoy Advance, and tucked in a spot nobody would see it.
It was also nice to finally see and play Gradius V, the sequel to one of the best 2D shooters of all time. There was no faking how impressed I was by the two levels Konami had on display, and how it felt like the old games, but with the added improvements to bring it into the 21st century. It was everything I had hoped Castlevania would be.
I seem to have derailed this rule, in fact, I think we've gone so far off course you probably don't even remember the rule. Here I am reminiscing about the good times, but I'm SUPPOSED to be talking about faking interest. Let me try to get back to where we started, and learn from my mistakes ...