When the DJ wasn't spinning n-word laden rap songs from Kanye West (the non-radio edit of Gold Digger probably isn't the most appropriate song for a "family" expo), the stage played host to two different bands. The first, Toxic Underground, spent a few minutes wowing the crowd with rock renditions of your favorite 8-bit tunes. Later in the day
Mechlo
showed up, hammering his Game Boy and dancing about as his wife hawked CDs on the side. At one point an adorable kid walks up and asks the musician why he's making music and not playing The Legend of Zelda: Links Awakening. That's a really good question.
A lot of people came to the Cowlitz Classic Video Game Expo to pick up rare games from yesteryear. The dozen or so retailers offered a wide assortment of classic systems, old game magazines, controllers, anime, costumes, Japanese imports, accessories, trading cards, shirts and mouse pads. Most of the venders were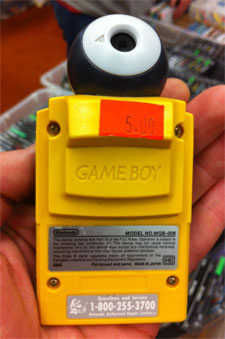 We seriously considered taking all of our Cowlitz pictures using this Game Boy Camera!
local shops with big collections, each making a nice living going from one classic game expo to the next.
Believe it or not, there were some hot deals to be had. If you were in the market for a cheap Game Gear, you were definitely in luck at this expo. There were also good deals on the 3DO, Philips CD-i and Jaguar. Plus, enough software to make buying these oft-forgotten systems worthwhile. Of course, there were still a few shady sales tactics at play. I was quoted two different prices for the first issue of Nintendo Power, which didn't have an actual price tag. The first guy quoted me $30, while a little later in the day another employee, after looking it up and down, said $35.
Still, for every questionable sale, there were multiple great people just trying to move product. I saw a number of genuinely rare games (Panzer Dragoon Saga, Dracula X, etc.) for prices substantially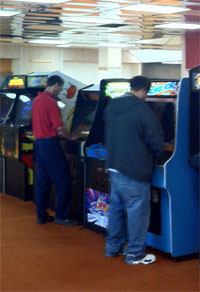 There was a smattering of arcade games!
cheaper than what you normally find at the Penny Arcade Expo. Best of all, many of the systems and games came with the original packaging, which isn't always guaranteed when bidding online.
Easily the most exciting product for sales was a rare, limited edition version of Snow Bros. for the Sega Genesis. Released by none other than
Lost Classics
(a company that specializes in releasing physical versions of rare, unreleased prototype games), it took everything in my power not to buy up the remaining stock. When I asked him what was going to happen to the games, he suggested that they might go away for good. Would they be destroyed? Probably not, but he did suggest giving them to other websites. Currently you can't buy these games on their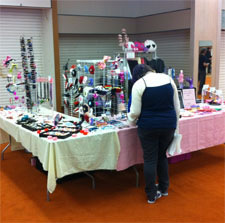 This pink, anime-inspired booth seemed out of place next to old 3DO units!
website, which is a real shame. Somebody should let them know that the good people at Defunct Games would eat this game up in a heartbeat.
Beyond games and accessories, the coolest booth was doing little more than selling mouse pads and cupcakes. Tucked at the very back of the expo hall was a small, unassuming table with mouse pads in the design of classic NES title screens. How cool would it be to give a loved one a mouse pad with the Legend of Zelda intro (complete with mountains and waterfall) or Bionic Commando? Or what about one that plays homage to the Super Mario Bros./Duck Hunt cartridge millions of gamers grew up with as a kid? These novelty trinkets were cheap and of good quality. Unfortunately, the guy manning the booth was nowhere to be found until late in the day, and even then he didn't seem fully prepared for sales. Worse yet, there's no website for me to link to and their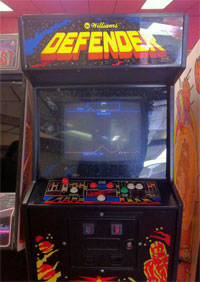 Now the logo makes a little more sense!
business cards were for a cupcake store that may or may not have anything to do with mouse pads. The whole thing was very confusing.
Perhaps even more surprising is how the symbiotic relationship the different venders had with one another. More than a few retailers suggested that their best stuff was sold before the gates even opened. Apparently all of the other venders picked up the most valuable stuff early, leaving the rest for us regular peons. Even without the best of the best, there were still a lot of good deals to be had if you dug deep enough. I didn't buy any games or systems (I own them all as it is), but did locate a few classic game magazines I had never seen before.
Not every part of the Cowlitz Gamers for Kids 2012 Classic Video Game Expo was about getting a good deal. Game fans looking to spend top dollar on barely valuable games, accessories and useless knickknacks could take part in the silent auction. What was on the block this time around? It included a very used copy of Dragon Warrior III, a giant stack of PlayStation 3 games, the Super NES version of Dracula X, the Miracle Piano Teaching System, a Greatest Hits version of Final Fantasy VII and a hardback printing of classic Nintendo comic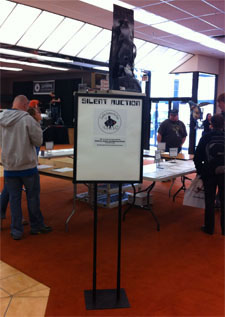 Shhhhhh!!
books. The most exciting object had to be three rare issues of Club Nintendo which ended up going for $25.
The silent auction baffled a number of kids, who seemed to think it was some sort of raffle or contest (not unlike how Dwight reacted to the same type of auction in the newest episode of The Office). Worse yet, some kids had no idea how to treat a classic game system. I saw one annoying eight year old rip an NES game out of the system without even turning the system off. When the game refused to work on another system he wasn't sure what to do. I suggested blowing it, but that didn't mean a thing to this kid. Sometimes you have to treat things with care, because you won't always be able to tweet @XboxSupport for help.
The troubling trend I noticed was the lack of diversity on the show floor. The game stations were full of games for the NES, Genesis, Super NES and Nintendo 64, but that's where it ended. Even though some of the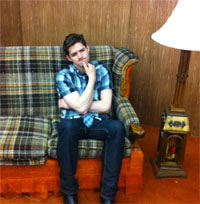 Patrick is disappointed by the lack of Atari Jaguar games on display!
retailers had a Vectrex and Neo Geo hooked up, it felt like there was a lot of history completely skipped over. Where was the Saturn? Would it have killed them to hook up Tempest 2000 on the Jaguar? Why the love for the Nintendo 64 and complete lack of PlayStation? Perhaps these questions will be answered at the 4th Annual Cowlitz Classic Game Expo.
As I left the expo hall/retrofitted Mervyn's I was immediately hit with a feeling of dread and despair. I knew the moment I stepped foot into the mall and heard Jennifer Hudson screeching at me that it was going to be downhill from here. Like everybody else who attended this event, I would have to go back to my regular life of listening to people rattle on about how amazing the next Call of Duty will be. For months I'll hear people tell me why I should care about Halo and every other sequel they can churn out before the world explodes. I guess the (formerly) fat lady really has sung.