Game Room (Xbox 360)
Microsoft's Game Room is about as exciting as this box art!
Best of 2010:
Food Fight, Detana!! TwinBee, Pitfall!, Jackal, Kabobber, Shoa-Lin's Road, Blades of Steel and Pitfall II: The Lost Caverns.
Worst of 2010:
Jungler, Baseball, Video Pinball, Oink!, Shark! Skark!, Venetian Blinds and pretty much every game that was originally meant for a 10-key control.
Looking Back:
It's been a tumultuous year for Microsoft's newest game store. Launched early in 2010, Game Room managed to rack up an impressive 188 releases. Unfortunately Microsoft proves once and for all that quantity means nothing if the quality isn't there. Week after week we were bombarded with mediocre arcade ports made for the Atari 2600. Throw in the universal three dollar asking price and is it any wonder the service barely lasted a year?
To Microsoft's credit, Game Room does have a number of worthwhile titles. In spamming the Xbox Live Marketplace with every game they could license for cheap, Microsoft was able to land at least a dozen rock solid titles. Games like Food Fight and Jackal are a steal at three bucks. And even if you'll only play some of these games once or twice, it's nice to have the two Pitfall releases in your video game collection.
Unfortunately these must-own classics are surrounded by dozens of the worst games ever made. There's nothing wrong with offering 3D Tic-Tac-Toe, but you know something's wrong with that's the highlight of the week. To be fair, it wasn't always the game's fault. A lot of these games had complicated controls that are not easily translated
Now this is what I call a game room!
to the Xbox 360 pad. Far too many games require players to map out a 10-key to various buttons, mostly for inane actions in an otherwise absurd game. It's not worth the hassle.
It's safe to say that a strong majority of these 188 games are not worth three dollars. Had they sold for cheaper or as part of a package, then things would have turned out differently for Game Room. As it is, it's a poorly constructed idea

that failed to deliver games that people actually wanted. Rest in peace, Game Room.
Looking Forward:
Things do not look good for Microsoft's Game Room. What started with a lot of promise has fizzled out in record time. The bad news is that Krome Studios, the original team behind Game Room, has been let go by Microsoft. The best case scenario is that the deals have been done and we'll have games all throughout the year (even without a studio actively working on it). Sadly, the more realistic option suggests that we've seen the last of Game Room. We've already gone a few weeks without a peep. Where does that leave Sunset Rider? If Microsoft never makes the Konami classic available, then you can feel free to drop my entire grade by a full letter.
Xbox Live Arcade (Xbox 360)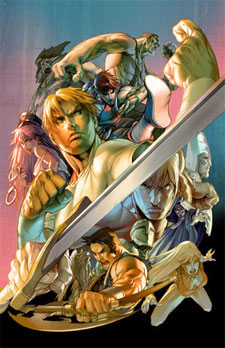 Thanks to the success of Final Fight: Double Impact, expect more Capcom compilations in 2011!
Best of 2010:
Final Fight: Double Impact, Doom II, Monkey Island 2, X-Men: The Arcade Game and Perfect Dark.
Worst of 2010:
Crazy Taxi, Quake Arena Arcade, Duke Nukem: Manhattan Project, Sonic Adventure and Raystorm HD.
Looking Back:
While it may not have the dedication of Nintendo's Virtual Console or Sony's PSone Store, the Xbox Live Arcade featured a number of worthwhile retro releases in 2010. You find them in amongst the indie darlings (Limbo) and quirky puzzle games (Ilomilo), usually released with little to no fanfare. They are a hodgepodge of classic arcade games, Dreamcast releases and graphic adventure games. They are the small list of Xbox Live Arcade games that warrant including it in this retro-focused article.
Over the last twelve months we saw a number of substantial releases, including Final Fight: Double Impact (which came with Magic Sword), Doom II and a six-player online-enabled X-Men arcade port. 2010 also brought us Perfect Dark, yet another Nintendo 64 exclusive to find its way to the Xbox Live Arcade.
Unfortunately, 2010 also had a number of clunkers. I feel bad for anybody that had to suffer through Duke Nukem: Manhattan Project and I'm starting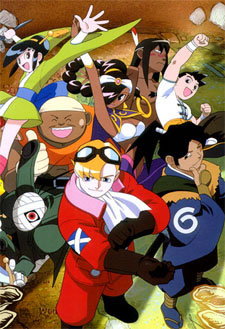 I would spend an absurd amount of money to play Power Stone 2 over Xbox Live!
to question who thought bringing Quake Arena (perhaps the fastest first-person shooter in history) to the Xbox Live Arcade. Things looked up when Sega announced a batch of Dreamcast ports. Could this be the year we finally get online versions of Chu Chu Rocket and Power Stone? No, instead we got Crazy Taxi and Sonic Adventure.
On top of featuring pixel perfect ports of arcade games, 2010 was a year full of retro imitators. Some found Scott Pilgrim vs. the World to be too challenging, which others dismissed the first Rocket Knight sequel in fifteen years. Capcom delivered another faux-old school Mega Man game and everybody loves Pac-Man: Championship Edition DX. If you're a fan of the classic game style, the Xbox Live Arcade offered

enough solid titles to keep you happy ... but just barely.
Looking Forward:
With the death of the Game Room, one expects the attention to turn back to the Xbox Live Arcade. There are already a few big releases announced for 2011, including a Bionic Commando sequel and Street Fighter III. If that's not enough, Sega still has Space Channel 5 Part 2 on top, while UbiSoft is prepping Beyond Good and Evil. Given the success of 2010's retro releases, one can only expect more of the same from 2011. Let's just hope nobody brings Spelunker HD to the Xbox Live Arcade.