What Is It?
And the first Wii U Virtual Console game is ... Balloon Fight? You've got to be kidding me! That's like creating a brand new DVD format and debuting with
Weekend at Bernie's
. It's like going to the local Walmart for you family vacation. Nintendo could have led off with any one of a hundred first party hits, but here is Balloon Fight.
Think of this first-generation NES game as a weird combination of helium and Joust. Unfortunately, I hate Joust and I hear that huffing helium is hazardous to my health. Perhaps that's the reason I could never get into Balloon Fight. Here you play a kid who is flying over the surface trying to take down enemies with balloons.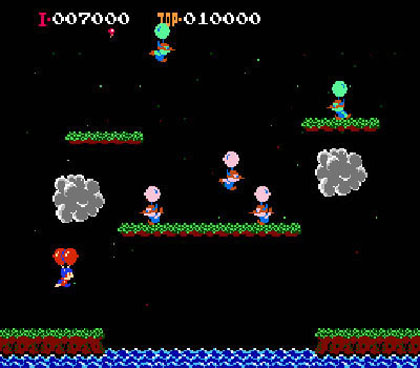 Beyond the fact that this plays almost exactly like Joust, Balloon Fight really doesn't make any sense. Wouldn't a dart gun be a more effective weapon to combat the evil balloon men? And why do I have to mash on the buttons to move my character up? You're using balloons; shouldn't you float without mashing the buttons? Like Soccer and Urban Champion before it, Balloon Fight is an early Nintendo title that deserves to be left in the past.
Does It Still Hold Up?
If you think Joust is still a lot of fun to play, then there's a good chance you'll love this far more innocent rip-off. Balloon Fight is one of those games that sounds like it should be a lot of fun ... but it isn't. The problem with a game like this is that if you don't like the first stage, then you'll hate the rest of the game. Like many early NES games, level designs are repeated ad nauseum. I'm sure there are people out there that will enjoy this kind of monotony, but it's hard to be real excited about a game like Balloon Fight.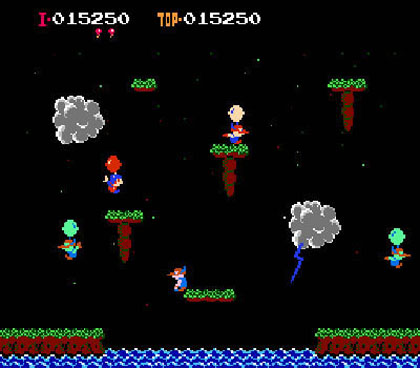 Is It Worth The Money?
As of this writing, Balloon Fight is a mere thirty cents. That may be tempting, if only to see how well the Virtual Console works on the Wii U. The cynical side of me realizes that Nintendo could have released anything this week and practically every Wii U owner would buy it. Perhaps that's why they chose this mediocre NES game over, say, Super Mario Bros. The price may be good, but the game is all wrong.