What Is It?
Now here's a Street Fighter II clone you probably haven't played before. Originally released on the 16-bit Super Famicom, Makeruna! Makendo 2 (aka Don't Lose! Kendo Magic 2: Deciding Who Will Be President of the Monsters) is a cheeky one-on-one fighter with a heavy emphasis on adorable whimsy and high school cliches. The eight selectable characters include Madonna the ballerina, Mamarin the fat girl, Makenro the futuristic tennis star, Massoccer the jock and, of course, Makkey the stoner musician.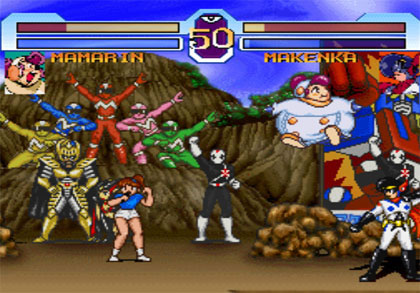 The action feels a lot like Street Fighter, with fireballs, uppercuts and spinning kicks all pulled off with the all too familiar quarter-circle motion. The game does attempt to add a role-playing element, awarding experience points after each battle. Before long you'll have a long enough life bar to finally take on the giant robot menace. The game's crazy story is spelled out through a number of lengthy cinemas, all of which includes endless Japanese text. Thankfully you don't need to read the language in order to have a good time with Makeruna! Makendo 2.
Does It Still Hold Up?
The good ideas found in Makeruna! Makendo 2 aren't enough to keep the game from feeling outdated. Despite being a PlayStation game, the visuals are decidedly 16-bit. The characters are small and the backgrounds are simple. It's also disappointing to see the paltry selection of characters. On the other hand, the gameplay is solid and some of the special moves are fun to pull off.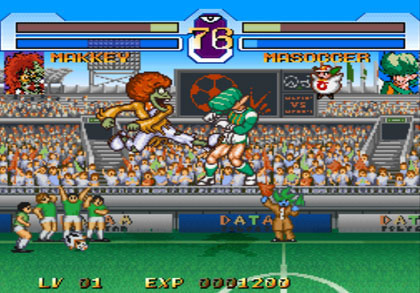 Is It Worth The Money?
Even by 1995 standards, Makeruna! Makendo 2 is a middling release. It manages to successfully ape the Street Fighter formula, but doesn't do anything new or original with it. I do like the school theme and some of the backgrounds, and the gameplay is strong enough to make it worth a look. In a year full of must-own fighting games across all platforms, it's difficult to make a strong argument for Makeruna! Makendo 2.
(Editor's Note: This product is currently available through the PSN Import Store for use on the PlayStation 3, PS Vita and PSP. Keep in mind that no localization work has been done, including the instruction manuals. On the other hand, this import PS1 game is only $5.99!)