This is the help button!
This is Defunct Games, the 1347th best site on the internet. I'm here to help guide you through this very confusing website. My goal is to tell you about more than thirty different shows featured on Defunct Games. Unlike most websites, Defunct Games prides itself on its diverse shows, each featuring a unique mix of comedy, history and tragedy. But with so many different shows, it can be tough to know where to start. With thousands of articles and reviews, Defunct Games can be intimidating to the average reader. But you're not the average reader, which is why you've decided to dig deeper into Defunct Games.
Below you will find a list of the currently active shows. I will provide a quick synopsis, as well as a sample article to get you into the show. You're on your own from there. Hopefully you will find some of the content interesting enough to recommend to friends, family, teachers, significant others and that stalker that keeps calling you at weird hours of the night. Leave comments, send us
tweets
and let people know about what we're doing here. Just don't call me in the middle of the night, because that's seriously not cool.

INTERVIEW REENACTMENT:
Welcome to Interview Reenactment, where we recreate some of the greatest video game interviews of all time. Spend each Wednesday listening to reenactments of some of the most combative interviews of all time. Listen to other journalists and YouTube stars become some of the biggest names in the video game industry, including Howard Lincoln (Nintendo), Tom Kalinske (Sega), Sam Tramiel (Atari), Senator Joe Leiberman and Steve Race (Sony).
SUGGESTED ARTICLES:
Next Generation Interviews Atari's Sam Tramiel
Reenactment: Next Gen Interviews Tom Zito of Digital Pictures
Reenactment: Next Generation Interviews Sega's Tom Kalinske

ON-RUNNING FEUDS:
This long-running series is a place for lengthy editorials and snap-judgments. Join Cyril Lachel and guest editors as they speak their mind on everything from the state of the industry to Metal Gear Solid. And with more than thirteen years of strongly worded editorials, it's fun to look back and see how wrong our predictions were. Trust me, there are more than a few wrong-headed opinions lurking in the archive of On-Running Feuds.
SUGGESTED ARTICLES:
The Real Reason I Can't Spell Ys
Resident Evil Will Never Be Scary Again
X-COM Is Not the Best Game Ever (Anymore)
The Year Street Fighter Wasn't Released
THE FREEZE FRAME:
When something familiar happens in the video game industry, The Freeze Frame is there to take a picture. Nothing is too goofy, creepy or outlandish for Defunct Games, and that can be seen in over a dozen year's worth of Freeze Frame articles. Sometimes informative and occasionally fun, The Freeze Frame will have you seeing double.
SUGGESTED ARTICLES:
Sega, Cherry Coke, and the Terrifying Van
GamePro Quiz: Can You Name This Portable?
A Fake Alien Game for a Fake Alien Movie

DEFUNCT GAMES VS.:
Some shows dare to review one or two games, but Defunct Games is here to review every single installment of a popular series. See what our editor's thought of entire franchises, including Ninja Gaiden, Contra, Tony Hawk's Pro Skater and more. That's the level of dedication you can expect from Defunct Games Vs.
SUGGESTED ARTICLES:
Defunct Games vs. Contra
Defunct Games vs. The PlayStation Launch

COUNTDOWN w/ DEFUNCT GAMES:
Everybody loves a list. Countdown with Defunct Games delivers all the thrills you expect from a typical top 10 list, only with the musings of Cyril Lachel and guest editors. No list is too big for Countdown with Defunct Games. (Warning: All lists published before 2006 are currently broken, we are aware of the problem and will fix them at some point.)
SUGGESTED ARTICLES:
Best of 2013: Ten Games That Didn't Totally Suck
Fifteen E3 Cliches Journalists Must Avoid

CYRIL READS WORLDS OF POWER:
Forget movies and TV shows, let your ears go on a magical adventure as Cyril reads the back catalog of Worlds of Power books. From Metal Gear to Bionic Commando to Ninja Gaiden, Cyril delivers a book-on-tape experience, complete with sound effects and authentic music. You won't want to miss a single episode of Cyril Reads Worlds of Power!
SUGGESTED ARTICLES:
Cyril Reads Metal Gear #1 - Chapters 1 & 2: The Mission
Cyril Reads Bionic Commando (Ch. 1 + 2)

THE LEADERBOARD:
It's time once again for THE LEADERBOARD, the Defunct Games podcast/game show. You read that correctly, it's both a game show AND a podcast! For the next three months we will find random gamers and make them guess what popular game I'm thinking of. But don't worry; I'll give them a fighting chance. I'll read them a short review from a popular video game magazine. It couldn't be any simpler!
SUGGESTED ARTICLES:
James Sturges vs. The Leaderboard (Video)
Jerry Terrifying vs. The Leaderboard (Video)

YOLO:
This is YOLO, the show where Cyril Lachel attempts to play as much of a game as possible on a single life. Will he beat the game or die in the first level? You'll have to tune in and find out. And while you're there, learn more about the history of the game he's playing and the impact it eventually had. It's one game and one life on every episode of YOLO.
SUGGESTED ARTICLES:
You Only Live Once: Mighty Final Fight (NES)
You Only Live Once: Strider (Genesis)
You Only Live Once: DJ Boy (Genesis)

A BRIEF HISTORY OF GAMING:
Comes with us on a journey that will span more than three decades. Okay, so it's not exactly Cosmos, but A Brief History of Gaming will tell a story of classic consoles, rare sequels and the madmen who bet everything to make incredible games. Join Cyril Lachel and guest editors as they teach an important lesson about video game history.
SUGGESTED ARTICLES:
When Did Classic Gaming Magazines Get Their First Cover Girl?
What's Wrong With the Official Sega Genesis Seal of Quality?
Electronic Gaming Monthly is Obsessed with Street Fighter II

INSTANT EXPERT:
Welcome to Instant Expert, the show that teaches you everything you might possibly need to know about an old game series. Now you can look smart as you impress your friends with obscure trivia and your strong grasp on rare and obscure releases. With Instant Expert you will never be the loser at the office gathering that doesn't know the finer details of a game franchise nobody's heard of. We guarantee that you'll be the life of the party or we'll give you a full refund!
SUGGESTED ARTICLES:
Five Games That Are Secretly Connected
Five Exciting Facts About Rolling Thunder
Five Oversized Facts About Shaq Fu

THE BLACK SHEEP:
Every family has one - the Black Sheep. It's that one member that doesn't quite fit in. That guy that never gets an invitation to the family reunion. Join me as I explore some of video gaming's most notorious outcasts. This is Black Sheep!
SUGGESTED ARTICLES:
The Black Sheep: Nintendo's Uniracers (Super NES)
The Black Sheep: Wii Music by Nintendo
The Black Sheep: Street Fighter 2010 (NES)

REST IN PIXELS:
Every video game character dies; it's just a fact of life. But some deaths are more spectacular than others. This is Rest in Pixels, the only show on the internet willing to shine a light on some of video gaming's biggest deaths. So put down the tissues and wipe away the tears from your face, because we're here to celebrate the many different ways game characters die.
SUGGESTED ARTICLES:
The Black Sheep: Nintendo's Uniracers (Super NES)
This Is How Strider Dies!
This Is How Albatross Dies in Rolling Thunder!
This is How Mega Man Dies!

PLAYER SELECT:
Defunct Games is about to rank your favorite video game characters. From classic platformers to bloody combatants, Player Select features two editors reviewing a vast selection of popular characters. What did Defunct Games think of Bubsy or Kano? Find out when you read Player Select!
SUGGESTED ARTICLES:
The Black Sheep: Nintendo's Uniracers (Super NES)
This Is How Strider Dies!
This Is How Albatross Dies in Rolling Thunder!
This is How Mega Man Dies!

GREAT MOMENTS IN BAD ACTING:
Welcome to Great Moments in Bad Acting, your weekly history lesson about terrible voice acting. Join us as we spend the next two months making fun of some of the best bad acting ever committed to a video game. We'll be looking at crummy full-motion video games, overhead shooters, survival horror and even light gun shooters. All in an attempt to honor some of the hammiest acting you've ever heard.
SUGGESTED ARTICLES:
Night Trap's 15 Most Ridiculous Moments
House of the Dead 2's Ridiculous Moments
Resident Evil's Most Ridiculous Moments

MONDO COOL TV:
Defunct Games and the Mondo Cool Network are proud to present Mondo Cool TV, a bi-weekly look at classic games and what they mean to the millions of people who love them. Join host Jerry Terrifying as he takes you on a bi-weekly tour of this industry's best (and worst) moments!
SUGGESTED ARTICLES:
Mondo Cool TV: Sega Master System
Mondo Cool TV: TurboGrafx-16
Mondo Cool TV: Ninja Gaiden

I'VE GOT YOUR NUMBER:
Join Cyril Lachel and the whole Defunct Games staff as they tell a story about video games, one number at a time. Each episode looks at a trend connected to a number. From sequels that killed the franchise to the Seven Deadly Sins of E3, I've Got Your Number is one of the most unique shows on the pages of Defunct Games.
SUGGESTED ARTICLES:
Electronic Gaming Monthly's 15 April Fool's Day Pranks
The Super Scope 6 Blues
The 14 Sports Mario is No Damn Good At
REVIEW CREW:
Ever wonder what Electronic Gaming Monthly, GamePro and other popular magazines thought of your favorite 8-, 16- and 32-bit games? Now you can find out, thanks to Review Crew! This is the only show on the internet that is willing to go back in time to find out what old school critics thought of retro games at the time. Did they pan your favorite game? Did they love something terrible? Find out every Monday, Wednesday and Friday as Defunct Games presents Review Crew!
SUGGESTED ARTICLES:
EarthBound: What Did the Critics Say in 1995?
Ecco the Dolphin: What Did the Critics Say in 1993?
Panic!: The Most Polarizing Game of All Time?

NINTENDO POWER UNCOVERED:
After nearly three hundred issues, Nintendo Power has finally come to an end. To send this long-running periodical off in style, the Cover Critic has decided to review every single issue. Join Cyril Lachel on Tuesdays, as he experiences every aspect of Nintendo's journey through their unique magazine covers.
SUGGESTED ARTICLES:
Nintendo Power #1: July/August 1988 - Super Mario 2
Nintendo Power #7: July/August 1989 - Mega Man II
Nintendo Power #16: September/October 1990 - Maniac Mansion

WHO WORE IT BEST?:
Defunct Games is proud to be the only site on the internet ranking old school magazine covers. In each episode, we pick a theme or a game franchise and see which magazines had the best and worst covers. See if you agree when we review covers from Electronic Gaming Monthly, GamePro, Sega Visions, Next Generation, CVG, Mean Machines, Die Hard Game Fan and more!
SUGGESTED ARTICLES:
Who Wore It Best: Teenage Mutant Ninja Turtles Edition
Who Wore It Best: Sonic the Hedgehog Edition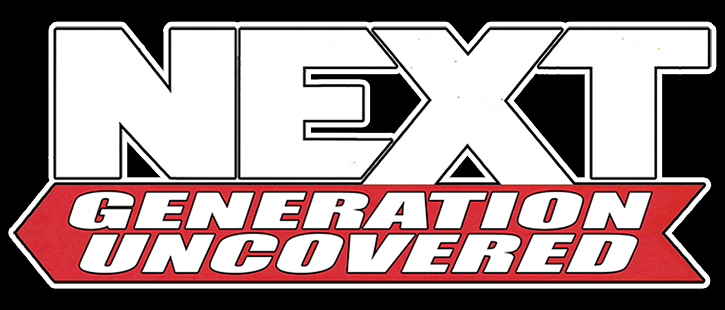 NEXT GENERATION UNCOVERED:
While Next Generation didn't have the lifespan of Electronic Gaming Monthly and Nintendo Power, the magazine did spend seven years influencing what we now consider modern-day games journalism. Over the next 85 episodes, we'll do our best to review every Next Generation cover and put the issue into proper context. Join us every Thursday for Next Generation Uncovered!
SUGGESTED ARTICLES:
Next Generation #4 - Atari Jaguar: Pussycat?
Next Generation #1 - The Looming Videogame Wars of 1995
Next Generation #2 - Gaming on the Information Superhighway

COMMERCIAL BREAK:
Join Cyril Lachel as he takes a trip through the dark history of video game advertising. From cringe-worthy fart jokes to action that literally explodes out of the television, Commercial Break is full of the worst video game advertising of all time. See the cliches and terrible designs in a decade's worth of Commercial Break episodes!
SUGGESTED ARTICLES:
Supreme Court of Bad Advertising
Castlevania: A History of Bad Advertising
18 Years of PlayStation Launch Commercials

THEY SAID WHAT?!?:
Defunct Games debunks and nitpicks some of the biggest magazines of all time in the appropriately titled, They Said What?!? From Electronic Gaming Monthly's terrible predictions to clueless writers talking about an industry they aren't familiar with, They Said What is here to set the record straight. Join Cyril Lachel as he looks for the truth in each episode of They Said What?!?
SUGGESTED ARTICLES:
Future of Harmonix: First-Person Shooters?
Broken NES-001: $13,000 or Better Offer (Video)
Game Fan vs. Street Fighter III

COVER CRITIC:
They say you shouldn't judge a book by its cover. But since we've never heard that expression used against video games, we figure that it's open season on box art. Join Cyril Lachel as he digs through some of the best and worst cover art from three decades of video game history. No game is safe when the Cover Critic is around.
SUGGESTED ARTICLES:
The Cover Critic Meets His Maker
The Cover Critic's New Look
The Cover Critic Gets Stuck in Heavy Rain

HARDCORE GAMER MAGAZINE:
Defunct Games is proud to present a brand new issue of Hardcore Gamer Magazine, available now for download. This full-color issue comes with news, reviews, previews and a look at international games you won't find anywhere else. Enjoy this PDF issue of Hardcore Gamer Magazine!
SUGGESTED ARTICLES:
Hardcore Gamer Magazine #20: Retro A GoGo
Hardcore Gamer Magazine #17: Grand Theft Auto: Vice City
TheHardcore Gamer Magazine #32: Metal Gear Solid 4

GAME EXPECTANCY:
Have you ever wondered how old your favorite video game character will be when they die? Defunct Games puts that question to the test. By studying the lives of gaming's biggest stars, we are able to accurately predict when they'll croak. Will you outlive your favorite game characters? Find out when you read Game Expectancy, only on Defunct Games!
SUGGESTED ARTICLES:
Ninja Gaiden: When Will Ryu Hayabusa Die?
Castlevania: When Will Simon Belmont Die?
Tomb Raider: When Will Lara Croft Die?

VIDEO GAME ADVICE:
Have you ever had a personal question and didn't know who to turn to? Then you've come to the right place, because Video Game Advice is the only show on the internet where classic game characters have a chance to answer real world questions. From finances to relationship advice, our list of video game characters is standing by to help solve your problem.
SUGGESTED ARTICLES:
Bomberman, Princess Peach and Tim Answer Your Questions
Albert Wesker, Error and Lilith Answer Your Questions
Simon Belmont, Tommy and Bass Answer Your Questions

GUERILLA SCRAPBOOK:
Don't be fooled by these fake video game reviews, previews and announcements. They may look real, but they are just part of Guerilla Scrapbook, only on Defunct Games. Is it possible that your favorite video game character starred in a sequel you don't know about? No, because this show is a total hoax.
SUGGESTED ARTICLES:
Brand New Games, Old School Reviews
Lifetime Remakes Your Favorite Games
The Capcom Crossovers We Really Wanted

WORST GAME EVER:
Defunct Games is in search of the worst video game idea possible. I'm not talking about games that actually exist, but rather titles that are so terrible that no company in its right mind would greenlight these turds. Do you have an idea for the worst game over? Come see some of the finalists in the always funny Worst Game Ever!
SUGGESTED ARTICLES:
Yoshi's Fart + Go (Nintendo 64)
HALO 3 COPD (Xbox 360)
Atlas Shrugged (NES)

LEVEL 1:
Welcome to Level 1. Every week we look at a random game's very first level. It doesn't matter what kind of game it is or what system it's for -- we're here to dissect the game's first level and see what it tells us about the rest of the game. I promise you an eye-opening experience in each episode!
SUGGESTED ARTICLES:
J.J. & Jeff (Level 1)
Splatterhouse: Wanpaku Graffiti (Level 1)
Castlevania (Level 1)

COMIC BOOK MODS:
You've never seen comics like this. Comic Book Mods features original comic strip work, as well as rewritten video game comics from the past. Enjoy the on-going adventures of a game journalist and learn why the Game Boy comic strip was political. Comic Book Mods is the only place for this kind of diverse humor.
SUGGESTED ARTICLES:
Game Journalist Meets a New Friend
Game Journalist Goes on a Date
Game Over #1: I'm Not Here

KNOW THE GAME:
Do you know video games? I mean, really, really know video games? Then you're going to love Defunct Games' newest game show -- KNOW THE GAME! This is a short quiz you can play by yourself. It's simple: I'm going to ask you a series of questions and you're going to tell me whether it's one absurd thing or another. Trust me, it's trickier than it sounds.
SUGGESTED ARTICLES:
Metal Gear Character or Sex Position?
2D Game Hero or Hip Hop Artist?
Sonic the Hedgehog Friend or Mobster?

FIGHT THE FUTURE:
Like everybody, we want to know what the future holds. Unfortunately, nobody at Defunct Games is psychic. But that's okay, because Fight the Future brings three experts together to predict the future. And by experts I mean an 8-ball, a computer bot that goes by John Lennon and an online psychic. Trust me, we've got this covered.
SUGGESTED ARTICLES:
Fighting Your Next Generation Questions
Fighting E3's Return to L.A.

PEACEFUL MOMENTS:
It's time once again for Simple Thoughts with Die Hard Game Fan, the most relaxing video of the week. It's the only video game article that is guaranteed to heal the soul. Enjoy these short, yet peaceful moments, brought to you by Defunct Games. It's the best way to start your day.
SUGGESTED ARTICLES:
Simple Thoughts: Cool World (Super NES)
Simple Thoughts: Air Zonk (TurboGrafx)