Thirty minutes, that's all I had. Thirty minutes of Fallout 3. You see, that's not nearly enough time to really get to know this huge, enormous, gigantic, epic game. Yet thirty minutes is about all I needed to know that I was playing something truly amazing. I was playing something that would change my life. I was playing what may just be the single best game of the year … if not one of the most important games of the century. Judging by the 30 minutes I spent with Fallout 3 I'm not afraid to call it a masterpiece.
Then again, it could be that everything after the thirty minute mark is absolute rubbish. I guess we won't know until the game comes out later this year.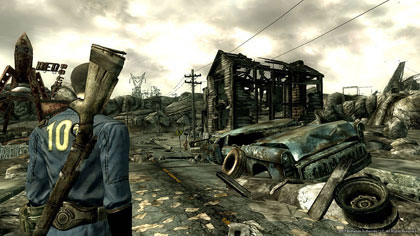 Speculation aside, Fallout 3 is everything you want it to be. It has a gigantic wide-open area full of post-apocalyptic animals, crazy townsfolk and secret areas to explore. At a glance the game looks a lot like The Elder Scrolls IV: Oblivion (also developed by Bethesda), only with guns, mutants and Nuka Cola. But give the game a closer look and you'll see that this game is so much more. It's everything a first-person shooter fan wants, plus it allows you to have a turn-based RPG experience. If any role-playing ame can cross over and change the way people think about RPGs, then this is the game that will do it.
The problem is that I just can't say much about the game. Thanks to a rather stringent non-disclosure agreement (albeit verbal) I find myself unable to actually talk about the game's interesting story. What I can tell you is that the controls feel absolutely perfect, allowing you all of the controls you expect from both an RPG and a fast-paced action game. And the atmosphere is spot-on as well, especially when it comes to the different radio stations and the various voice acting. The graphics are also strong, especially when you're outside looking at the beautiful vistas filled with destroyed buildings and dangerous creatures.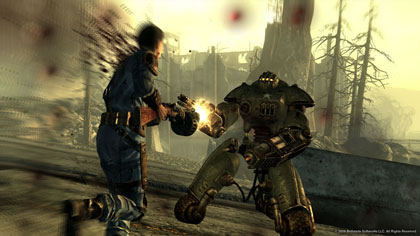 Then again, what I don't know about the game could fill up three books. How will the ultimate story play out? Just how much control will I have over the ultimate outcome of the game? Will this be the kind of game I want to go back and play over and over again? Will there be enough to do in this post-apocalyptic Washington D.C.? Will I get tired of my character by the end of the game?
See, those are the types of questions I can't answer until I've had more than 30 minutes to digest such a large game. The good news is that I can't wait to do all this, preferably as soon as humanly possible. As much as I hate to take 100 hours of my schedule to play through another epic RPG, this is one game I'll make an exception for. Bring on Fallout 3, because this really is one of the best (if not the best) game at this year's E3.