Mortal Kombat vs. DC Universe
I won't lie to you; I've been one of those skeptical gamers coming down on Mortal Kombat vs. DC Universe. I don't know if it's my worry about the toned down gore or that it just feels wrong, but there's something about the project that gives me an uneasy feeling. It's not the comic book crossover that bothers me; I was a huge fan of both Marvel vs. Capcom games. It's not the Mortal Kombat characters, as I'm a big fan of Ed Boon's mythology. So what is it? What is my problem with this project? I went into this game demonstration hoping to get to the bottom of these questions.
First let's start with the good news, since there is definitely a lot of it. Although the game is a bit of a departure from the recent 3D Mortal Kombat games, this crossover actually feels more natural than I had originally thought. Better yet, the gameplay is basically two-dimensional, which makes this game feel more like Mortal Kombat II than, say, Mortal Kombat: Deadly Alliance. The graphics may not be the best we've seen in a next-gen fighting game, but the character models and backgrounds look appropriately rough and disturbing. The characters are huge and each of the locations have a nice touch of polish that you don't normally get with 3D Mortal Kombat games.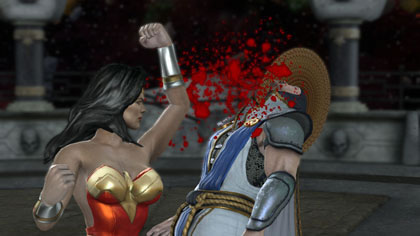 The trick to this game is that all of the punches and kicks feel like they are coming from a group of the strongest individuals in the universe. When you punch your opponent it doesn't just hurt, it looks like you're breaking every bone in his face. What's more, you can actually punch your opponents through the walls, ceilings and out of windows. The levels may look small and confined, but you'll be able to open up the arenas in cool and surprising ways.
So far Midway is being tight lipped on just who will appear in the game, however the version I played featured three fighters from the Mortal Kombat universe and three from the DC universe. The Mortal Kombat cast features Sonya, Sub-Zero and Scorpion. All three of these characters retain their original moves, most of which are done exactly as you remember them. The DC super heroes include Batman, Superman and the Flash. Obviously the Flash is the fastest, however I found myself having the most amount of fun playing as Batman. Where does he get those wonderful toys?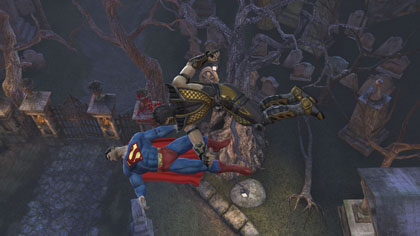 Sadly there is some bad news. As of this play session the controls don't feel quite as responsive as other 2.5D fighters (see: Street Fighter IV). Mortal Kombat has never had the most fluid controls, but it's a little too noticeable here. I also had a hard time pulling off some of the classic moves on the Xbox 360 control. Hopefully this is just a matter of them polishing it up in the last few weeks of development. Also, where are all the characters? Marvel vs. Capcom 2 had more than fifty characters, and from the looks of it this game will only have 24. What's the deal Midway?
There's still hope that some of these problems will be rectified, but for now I'm anticipating this game ... even if I'm still a skeptical. The game has a lot of potential and I can't wait to see what the final version looks like. From what I could tell the blood and fatalities are still in the game, but Midway wouldn't confirm Babialities, Beastialities and Friendships. I guess that means they're in the game. No matter what, Mortal Kombat vs. DC Universe is shaping up to be a solid fighting game.