I'll admit, I was skeptical going into Rock Revolution. After all, I'm a gigantic fan of Harmonix's Rock Band, to the point where I find myself buying new songs each and every week (I currently have over 100 downloaded songs). So from the get-go I knew that I didn't need another fake plastic drum set to clutter up my apartment. But even with this skepticism I was still willing to give Konami the benefit of the doubt. Maybe I shouldn't have.
My first taste of Rock Revolution came at the Konami press conference. After showing off two new Castlevania games and a new video about Silent Hill: Homecoming, Konami decided to have their big rock finish and give us a sneak peak at none other than Rock Revolution. Unfortunately things did not go as planned.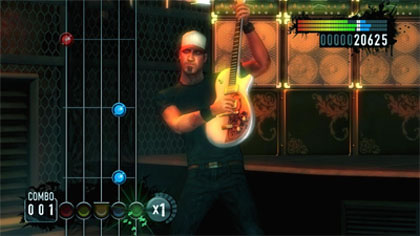 The project manager (a short haired young woman named Lauren Faccidomo) came out and told us that we were about to rock. And she meant it. We did, in fact, rock, thanks in large part to her all female Ramones cover band (no, I'm not kidding). Together they played a solid cover of Blitzkrieg Bop, a song that can be found in none other than Rock Band. Their concept (if you can call it that) was to transition from their real band to their fake Rock Revolution band. Unfortunately this did not go as planned.
Instead of featuring four band members on stage, Konami decided to bring out only two. One guy sat at the drums while the project manager picked up her Guitar Hero III cordless guitar and got ready to rock. The drummer was good, which is a miracle given how many different objects there are to hit on that drum set. Lauren, on the other hand, didn't seem very prepared for what she was about to do. In fact, it kind of looked like she had never picked up a fake plastic guitar before. After struggling for a minute or so, Lauren failed out and the game was over. And that, my friends, is when she wished us a good night and the event ended.
Obviously this should have been a sign. When the project manager can't even make it 65% through their own song (on medium no less) you know something's wrong. I realized then and there that I needed to play this game. And guess what? It's just as bad as I thought it was going to be.
Okay, so first the bad news. Unlike Guitar Hero World Tour and Rock Band, Rock Revolution does not feature any master tracks (every song is a cover). What's worse, the only instrument Konami seems interested in developing is the drums. That's right; they aren't making a guitar or microphone. In fact, the game doesn't even support a microphone. Yet this game allows four people to play. So if you can play the guitar, bass and drums, then what exactly is the fourth instrument? Simple, it's a second drum set. Because what the world of music games needed was two drummers.
So what's the good news? Well, there isn't any. It's a terrible, terrible game. There are far too many things to hit on the drum kit and the whole set-up doesn't feel very natural. Oh, and one of the drum pads is gray, which is next to impossible to see when it's rushing at you in-game. And you might as well not even try to play this game if you're color blind.
Needless to say, this game is an absolute mess. The question I couldn't get an answer to is why anybody would buy this over, say, Rock Band 2 or Guitar Hero World Tour. It has a number of songs you already own in other music games, a terrible interface and no guitar accessory. Seriously, they want you to buy this game and then go out and buy Guitar Hero III. Konami's only real hope is to get Rock Band and Guitar Hero taken off the market with lawsuits. And guess what? They're already doing that!