Hey Street Fighter fans, do you want a great looking 2D fighting game with only two characters and one background? Because that's what Capcom is offering those who are participating in the Super Street Fighter II Turbo HD Remix beta going on right now. After I catch my breath from saying the full name I'll do my best to preview this beta.
So here's what we know so far: Capcom intends to re-release Super Street Fighter II Turbo. Only, instead if release a direct port, Capcom has hired UDON Entertainment Corporation to redraw all of the world warriors, bosses, new challengers and backgrounds. The frames of animation and controls will remain identical to the arcade game, but the graphics will use high definition sprites that will look unbelievable on one of those newfangled HDTVs.
At least, that's the concept they pitched to us when Capcom first announced this game more than a year ago. In that time I haven't had a chance to see the game up-close, so I could only drool over the pretty pictures and pray that they didn't screw it up as bad as their first Street Fighter outing on the Xbox Live Arcade.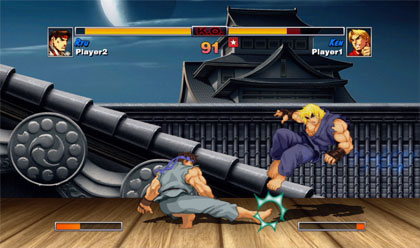 Thanks to this two-month beta I now have a chance to see this game for myself. Outside of the fact that there's only one background and two characters (Ryu and Ken), I'm impressed with what Capcom was able to do with this 15 year old game. The game feels just like the arcade game and the graphics are unbelievable. We can quibble all day about how Capcom chose the wrong game to remake (my vote was for Street Fighter Alpha 3), but there's no denying that this game looks fantastic on a high def TV.
Of course the reason for this beta is to test the servers so that this Street Fighter doesn't suffer the same fate as the last one. To this day Capcom's last Xbox Live Arcade outing, Street Fighter II Turbo, is plagued with annoying lag issues and ranking problems. These are problems that everybody wants stamped out, so hopefully Capcom will learn a lot from conducting this short beta test.
From my time with the beta I noticed far fewer lag issues, though this may have more to do with who I'm playing against than the actual servers. But the action was noticeably smoother, so it's important to give credit where credit is due. Unfortunately I was unable to look at the ranking problems, since none of the stats are saved. I'm sure the stat tracking will be in full effect when the game ships later this year, but it would be nice to be able to keep track of my wins and losses over the next two months.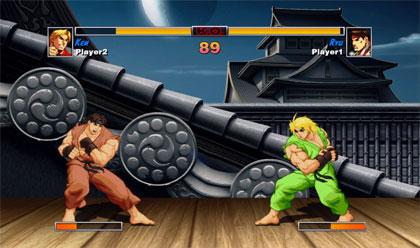 Unfortunately there's one problem that Capcom has no control over - the Xbox 360's control. While the control may be perfect for something like Halo 3 or Gears of War, it is far from ideal for 2D fighting games. The D-pad is atrocious, to the point where it doesn't register your moves half the time. And then there's the analog stick which works better, but just doesn't feel right. Thankfully there are arcade sticks available for the Xbox 360, though they are going to run you fifty bucks or more. The good news is that you should be able to get over the control pad issues and just have a great time beating the snot out of the other players.
While I'm throwing out random complaints, it's a shame that Capcom couldn't have given us one or two other characters. Don't get me wrong, it's great to have Ryu and Ken, but the two characters are just too similar. Why not give us Blanka or Guile or somebody else, somebody who doesn't throw a fireball. And would it have killed you to offer more than one background? Obviously these things are only relevant to the beta, but they are still on my mind every time I play this game.
It's strange to be this excited about a game that I already own, yet here I am buzzing with anticipation after playing the beta. Yes it may only be a graphical upgrade, but it's certainly fun to see how UDON has reinterpreted the original art. It's like listening to a good cover song - you know what to expect, but are surprised by the liberties taken to the source material. Here's hoping that Super Street Fighter II Turbo HD Remix is more like Jimi Hendrix playing Bob Dylan than Celine Dion playing AC/DC, if you catch my drift.