Rez may be a Gateway Drug


Scientists Prove Fishing Games Are Boring


Square Clarifies this might Not be the "Final" Fantasy admist Lawsuits


"SSX Tricky Not as Tricky As I am" Local Con Artist Says


Hasbro Readies port of Holla Hoop Advance


Editorial: Sonic is Too Damn Fast and Mario is Too Damn Slow, Looks like Blasto is My Man!





Dracula, Nosferatu Claim Metal Gear Solid 2 "Offensive and defamatory towards Vampires"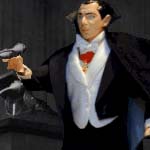 Las Angeles, CA -- A group of prominent Hollywood vampires marched to the court building today to petition a gag order on Konami's PlayStation 2 game Metal Gear Solid 2: Sons of Liberty.
Citing "offensive" slang, violence towards vampires, and stereotyping, these marching vampires want Metal Gear Solid 2 off the market as soon as possible. Leading the charge is Nosferatu and Dracula, who have so far been the most vocal over this cause. "Games like this give us a bad name, it's both offensive and defamatory towards vampires."



Programmers find that Extreme G3, WipeOut Fusion, and Kinetica look identical when you Squint

Oyster Bay, NY -- In a shocking revelation game programmers at Acclaim, Psygnosis, and Sony confess to not being able to tell the difference between their next generation titles. One programmers, who will remain nameless, warns that playing all three games together might get confusing, and it is not recommended. Gamers are urged to play each game ONLY when wide awake and during the day to save on confusion.

Most of the offense comes from new character Vamp, who mixes up mythology, religion, and accuracy. "Characters like this make people thing we can walk on water and see in the day light" complains a very sobering Dick Clark. "If people think all Vampires are like this, we may have an epidemic on our hands".

The march comes with muted response, however. The Million Vampire March was cut short by the sun coming up, and nobody being around the court house between 10 pm and 4 am. The Vampires say they will not quit until video games like this are taken off the market.

Doctors Warn of Monkey Revolution if kept in Small Ball

Rockville, MD -- Doctors today warned GameCube owners around the world that if their monkeys are abused, kept in a ball, or rolled about for no reason, they may team up and revolt against their owner.

So far there have only been a few injuries associated with Super Monkey Ball, but as cult hit grows in popularity the risk increases. No fatalities have been counted thus far, but there have been a number of missing limbs, scratches, and bites associated with poor care of monkeys.

Jim Ross, a 19 year old college student, didn't have a clue what to expect when taking care of a Monkey Ball. After three weeks of not feeding, not playing with, and generally ignoring his monkey, Jim was attacked by what he thought was simply going to be a weekend game. After Jim awoke from his Coma he found himself missing his right arm.

Doctors worry that the monkeys may be escaping and grouping together. Worse case scenario has the monkeys attacking the worlds economic infrastructure and taking over the world.