Chapter 3: No, Make MY Music Video!
After already ruining the good names of Hook and Wheel of Fortune, Sony decided that the obvious next step was to spend some time with some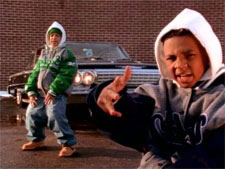 Kriss Kross will make you jump, jump (and hate all Make My Video games)!
of the 1990s most forgettable musical acts. I'm talking about Kriss Kross and C+C Music Factory, two bands that seemed to have it all in the 1990s. And to prove they had everything, Sony decided to give them their own games, officially known as Kris Kross: Make My Video and Power Factor Featuring C+C Music Factory.
In these CD-based games, music-lovers around the world were forced to listen to two of the worst musical acts of the 1990s. No, not Right Said Fred and The Rednex (they're pretty awful, too), but rather Kriss Kross and C+C Music Factory. Oddly enough,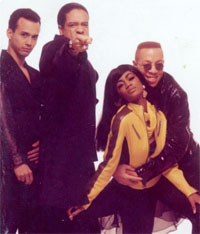 In the C+C Music Factory game you get to edit videos starring these four attracitve people ...
both of these atrocious acts took part in two of the worst full-motion video games of all time. It was a game that allowed you to create your own music video.
On paper the idea of making your own video actually sounds pretty cool. After all, this was at a time when MTV was routinely playing music videos and before you could do the same thing on your computer for an affordable price. Better yet, this was at a time when nobody knew what a YouTube was, so finding stock footage and piecing it together was brand new for many Sega CD gamers.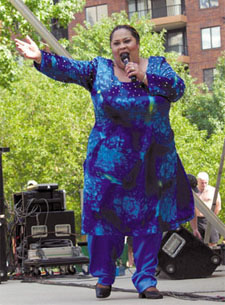 ... And not the real singer, Marsha Walsh!
Unfortunately Sony found a way of turning the cumbersome task of developing a music video into a real chore. For starters, both games only featured three songs, a far cry from the dozen or so tracks found on the actual album. Worse yet, the videos you get to make are nothing more than variations of clips already created for these songs. If you wanted to you could literally make the same video as what you saw on MTV, though I'm not sure why you would want to. Thankfully you have a lot of stock footage to splice in, but even that is extremely lame. Who wants to see a video of a monkey washing a cat? On second thought, that actually sounds more interesting than the actual game.
Of course, Sony wasn't the only company championing the "Make My Video" style of CD-ROM. Sega also had their own versions of the game, featuring both INXS and Marky Mark and the Funky Bunch. These games weren't any better than Sony's offerings, but at least INXS was an established rock band and Marky Mark would go on to become a superstar actor. That's definitely more than you can say about Kriss Kross or C+C Music Factory.
Chapter 4: The Re-Retelling of Bram Stoker's Dracula
To Sony's credit, the company was able to produce at least one stand-out video game in the time before the PlayStation. Unfortunately it's memorable for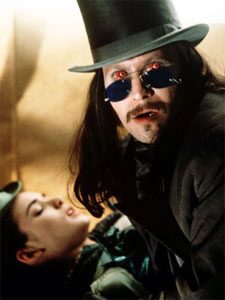 From Sid Vicious to Beethoven to Dracula, Gary Oldman sure does have a wide range!
all of the wrong reasons. That game is Bram Stoker's Dracula for the Sega CD. You wouldn't think that being released a full year late would make that big of a difference, but oh how wrong you would be. By the time Sony got around to releasing this ill-fated Sega CD game the movie had tanked, the critics had panned the film's hammy overacting and nobody remembered the 16-bit cartridge adaptations. So in one last ditch effort, Sony Imagesoft decided to develop their single most ambitious game on a console that was, for all intents and purpose, dead.
The Sega CD version of Bram Stoker's Dracula started out as a standard side-scroller, however somewhere along the way the developers at Sony decided to go all in and try out a new technology that would
It's hard to believe that game journalists were impressed with these graphics 15 years ago!
either sink them or turn them into game making gods. The idea was to use digitized people, similar to what Midway was doing with their Mortal Kombat franchise. The gameplay would consist of you playing a real-life character punching bats, jumping over pits and fending off Dracula. With detailed CGI backgrounds and complete full-motion video cinemas, Bram Stoker's Dracula was definitely a cut above your average Sony Imagesoft game.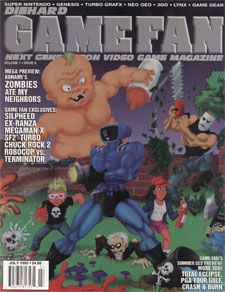 Die Hard Game Fan was one of the biggest supporters of Bram Stoker's Dracula, which should have immediately told you that something was wrong!
Sadly the attempt at innovation didn't pay off. Bram Stoker's Dracula was a sluggish action game that failed at even the simplest platforming fundamentals. Worse yet, the graphics ended up looking too muddy thanks to the Sega CD's low color count. Had Sony retooled this game for their PlayStation they may have been able to fix the game just enough to warrant a play through. However, I have a hunch that the game's core gameplay was too busted to be salvaged and they ended up giving up on the project. Either way, something definitely went wrong in the development of this Sega CD game.
Interestingly enough, most people wouldn't have even given this game a second glance if it wasn't for Die Hard Game Fan's support of the project. Issue after issue, Game Fan featured countless stories championing what looked like the most amazing game ever conceived for the Sega CD (or any system, for that matter). They published impressive pictures, rattled on about how great the gameplay was and made us want more. But it wasn't to be, yet again Die Hard Game Fan was wrong. But for a few months there in 1994 thousands of gamers sat in their bed rooms wondering if Bram Stoker's Dracula was the future of video game entertainment. It wasn't.
Epilogue: The Following Year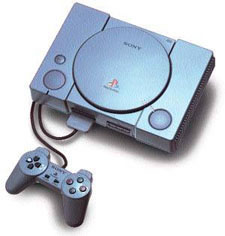 Shocking just about everybody, the original PlayStation did not suck!
Given Sony's output in the first part of the 1990s, it's understandable why gamers were skeptical that the company could pull off a successful console launch. Throw in heavy competition from Sega and Nintendo, and the Sony PlayStation sounded like a goner from day one. But a funny thing happened on the way to releasing the PlayStation, Sony managed to figure out how to develop a good game. Their first-party team (which was a collection of new and old game developers) managed to churn out a solid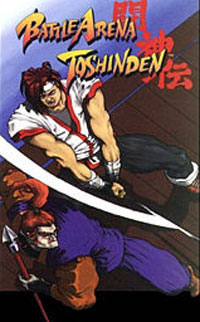 Even the worst launch titles were better than Cliffhanger and Last Action Hero!
line-up of launch titles. What's more, Sony had the good sense to hire second-party developers to unleash some of the best game on the console. This is the tactic that won Sony games like Warhawk, Twisted Metal and the original wipEout.
It didn't take long to turn skeptical gamers into true believers. Before long the PlayStation triumphed over the Sega Saturn and became the biggest success story of the 1990s. From there Sony only got bigger, eventually releasing the PlayStation 2, PSP handheld and an overpriced PlayStation 3. It hasn't always been smooth sailing for Sony, but the days of Make My Video and Bram Stoker's Dracula are far behind them.
Sony never did go back to making licensed movie games and terrible full-motion video experiences. Even their worst games were noticeably better than what came out prior to the PlayStation. If becoming a hardware maker is all it takes to start producing top quality titles, then here's hoping for a future full of video game consoles made by previously crappy developers.