What Is It?
Wrecking Crew plays like the sequel Mario Bros. never had. Apparently plumbing isn't paying Mario's bills, because our hero is now working as one of the wrecking crew. This is a team of specialists that go through Donkey Kong-esque levels bashing away debris that litters the landscape. You do this while dodging enemies that are either lunatic monks or walking eggplants. Once you've destroyed all of the blocks needed to complete the level, you move on to the next job.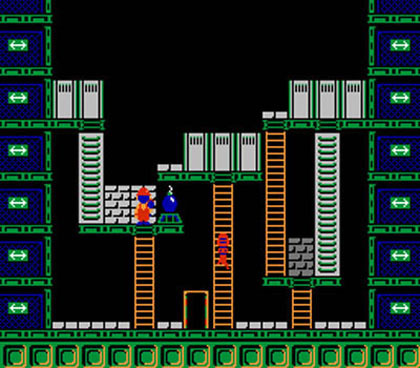 On the surface the game shares a lot with Lode Runner, but don't be fooled. The game really has more in common with the 1983 Mario Bros. If you take too long a floating fireball comes to haunt you, the game has magic walls and even Mario's death animation is the same. The only difference is that this time around he's on the job. Speaking of which, I think this is the first time I've seen Mario work. It's games like Wrecking Crew that make me question if the dude it actually a plumber, it's not like we've actually seen him doing any plumbing.
Does It Still Hold Up?
The gameplay is incredibly simple, you basically just run away from enemies and destroy stuff. Most of the strategy involves dodging the walking eggplant monks. Should you destroy the ladder now or save it for later? Apart from that stressful decision, the gameplay isn't bad and the computer puts up a reasonable fight. At first it's fun to wreck stuff, but it didn't take long for the repetition to set in.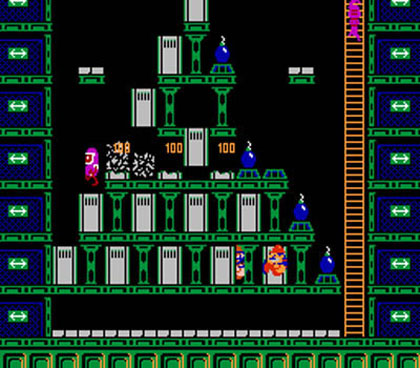 Is It Worth The Money?
Wrecking Crew was released over a year ago as one of the Nintendo Ambassador Program titles. Here it is filling up time between Mega Man sequels and Game Boy ports. For five dollars, Wrecking Crew is too repetitive to recommend. The bashing fun is short lived, despite a level creator that actually works. With shallow gameplay and ugly graphics, this NES launch game hasn't held up well.