What Is It?
Long before wipEout rocked the PlayStation (but chronologically after wipEout rocked 2048), Nintendo delivered this futuristic 16-bit racing game. F-Zero was not only fast, but also the most impressive showpiece for the fledgling Super NES. With fifteen different courses to conquer in nine post-apocalyptic locales, F-Zero offers an impressive amount of content to master.
Forget Pilotwings, F-Zero is all the proof you need that Mode 7 was the real thing. Even by today's standards, the game is perfectly playable and the colorful backgrounds still look pretty good. The game introduced players to multiple brake buttons, something still used in this style of futuristic racer.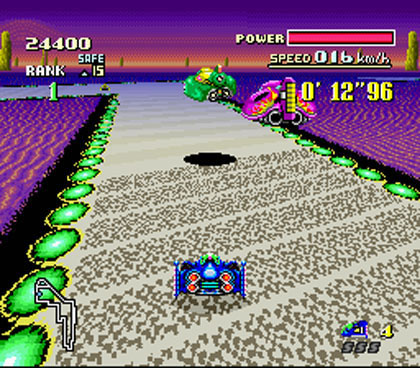 There are no weapons to fire, but that doesn't mean you can ride the walls and get first place. Every hit, rub and scrape eats away at the shields. Depleting your shields puts the craft in jeopardy of blowing up, disqualifying you from the competition. The good news is that there's a pit stop. Unfortunately, driving through this section could slow you down and be the one thing that keeps you from first place. Those are the risks you take in F-Zero, one of Nintendo's best racing games.
Does It Still Hold Up?
Although F-Zero doesn't feel like a modern racer, it isn't so foreign that it's hard to go back. The various tracks are engaging and the gameplay largely holds up. The graphics and sound are a real treat. It's easy to see the imperfections of the Mode 7 scaling now, but that never broke the illusion for me. In some ways it made it better. This game has a style you rarely see in racers anymore.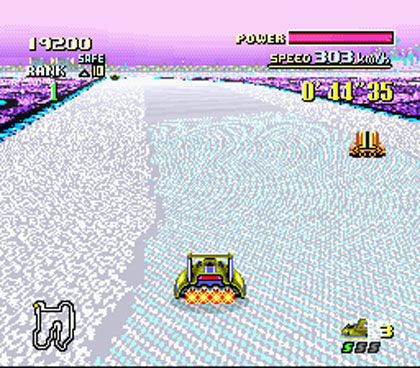 Is It Worth The Money?
I hate to be a contrarian, but F-Zero has lost me over the years. It feels like each new installment strays a little further away from what I love about this Super NES game. They emphasize speed and quick reflexes over expertly crafted level designs. What I wouldn't give for another F-Zero game exactly like this 16-bit installment. And I don't mean that Game Boy Advance game. I would love Nintendo to go back to the roots of this series and give us a game that honors the memory of F-Zero. Big N may never do that, but at least we can still play this must-own racer.