What Is It?
Dig Dug is the original "sandbox" game. In an era where every arcade game was trying to catch Pac-Man, this Namco release is a real oddity. Dig Dug is a maze game that seemingly forgot the maze. And while not hugely influential, this three decade old Namco game still remains a classic in certain circles. Unfortunately, I do not run in that crowd. This is a game full of original ideas, but none of them are able to keep my attention all these years later.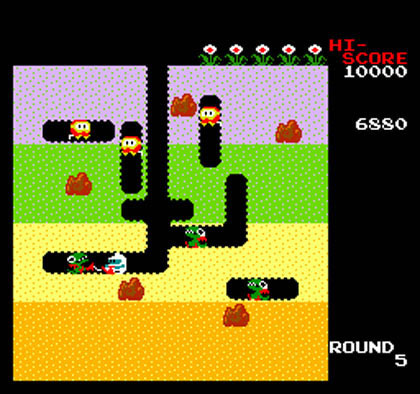 You play a man brought in to eradicate the monstrous menace found deep underground. You sift through the dirt and sand, ready to defeat any monster that gets in your way. This is accomplished by inflating each monster with a powerful tire pump. There are no walls, so you'll have to worry about the two baddies coming from all sides. In true arcade fashion, it starts easy and quickly ramps up. Every few stages the color scheme changes and more monster arrive. It's this kind of simple concept that made Dig Dug one of the most successful arcade games of all time.
Does It Still Hold Up?
As an arcade port, Dig Dug excels. The graphics look good and the gameplay is responsive. What holds this game back is its lack of variety. The unique gameplay hints at a much more interesting title, but level after level we're subjected to the same thing. Instead of speeding things up or adding new villains, Dig Dug ramps up the difficulty by cheating. Too often they'll double up bad guys, leading to a number of unavoidable deaths. The squandered potential and frustrating A.I. leads me to conclude that this Namco classic does not hold up.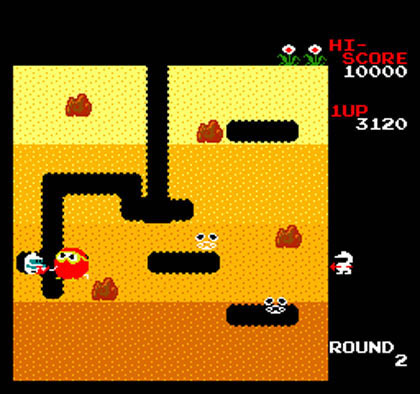 Is It Worth The Money?
Dig Dug left me cold. I can respect its place in the history of arcade maze games, but this is not the way I want to remember it. It's hard to deny the flood of good memories that come with the first play. But a little of that excitement wears off with each subsequent play. It ultimately left me disappointed by what could have been a much deeper and more interesting action game. Dig Dug only scratches the surface of a really cool concept.