What Is It?
Who knew that this little Mega Man game (with its terrible cover art and simplistic story) would spawn dozens of sequels, remakes and spin-offs? In fact, I can't think of another 8-bit game that spawned so many different installments. Not even Nintendo is pimping out Mario as much as Capcom is milking the Mega Man franchise. Between the recently released Street Fighter X Mega Man and this NES port, Capcom is bringing the blue bomber back in a big way.
In this game you do battle with the first set of robot toughies, including Cutman, Gutsman, Elecman, Fireman, Iceman, and Bombman. The idea is both simple and ingenious: Once you beat a boss you collect their special weapon. Like all Mega Man games, the joy is figuring out which weapon works best with each boss encounter. This is the first of several announced Mega Man ports for the Nintendo 3DS. Hopefully this all leads to a brand new Mega Man adventure.
Does It Still Hold Up?
If you're a long-time Mega Man fan, then you're probably going to be a little surprised at how barebones this title is. You can't slide, there's no charge blast and you don't have a robot dog companion. In other words, this is about as primitive as Mega Man gets. Not that there's anything wrong with that, but those advancements definitely added something to the formula. If you can get over that, then you'll find that this is a great 2D shooter that holds up remarkably well.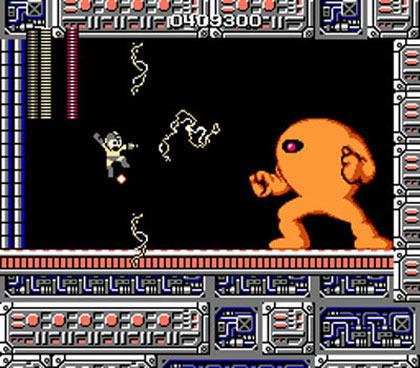 Is It Worth The Money?
Yes the original Mega Man is fun, but fans of the series would be much better suited to just wait until Mega Man 2 is released early next year. Or better yet, Nintendo 3DS gamers who also own a PSP or PS Vita should seek out Capcom's amazing Mega Man Powered Up. Not only do you get this full game (completely remade with 3D polygons), but you can also play through the game with the various boss characters. If you don't own a PSP and still want a good Mega Man game then this should do, but just be warned that there are much better Mega Man games on the horizon.