What Is It?
While it shares the same name of a popular arcade game, Ninja Gaiden is actually a 2D action title and not a faux-3D brawler. You play Ryu Hayabusa off on an adventure to battle evil and whatnot. He fears his father has been kidnapped by The Jaquio and he's the only person that can stop evil from triggering the end of the world. Y'know, normal ninja stuff.
What really sets this action game apart from all the other ninja games of the era (or action games in general) is the strong narrative running through the six stages. Looking back at the story today it's almost comical (especially the cheesy dialog), but it's unique to have such a strong action game using cinemas to tell what ends up being a rather engaging story.
Even though the action is solid and the story is interesting, it's important that you realize that this is one of the hardest video games ever made. Thanks to the recent release of Ninja Gaiden III on current generation consoles, some unsuspecting gamers may be tempted to see what the original was all about. Know that what you're getting is a punishing game full of frustrating moments. If you can overcome the unfair level of difficulty, you'll discover why Ninja Gaiden is one of the best 8-bit action games of all time.
Does It Still Hold Up?
From a gameplay perspective, Ninja Gaiden holds up. The action is fast and the controls feel good. The graphics look sharp on the portable's small screen. Some of the story stuff doesn't quite work now, but it's fun to look back at these early cinemas. The only thing that doesn't work here is the Nintendo 3DS hardware itself. The placement of the D-pad cramps my hand and using the analog stick feels imprecise. Personal ergonomics aside, Ninja Gaiden holds up remarkably well. Just be ready for the painful difficulty.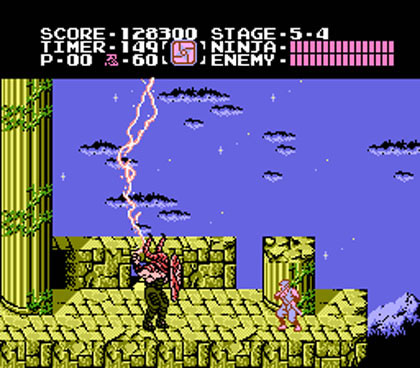 Is It Worth The Money?
Ninja Gaiden is both goofy and infuriating at times, but I can't help but love it. The action is constantly moving and the bosses are genuinely interesting. The quick save functionality on the Nintendo 3DS makes some of the later stages much more manageable. Still, even with the strong narrative and engaging story, I can't help but be disappointed that Nintendo opted for this NES game over the wonderful Ninja Gaiden Shadow.