What Is It?
Having already released
Fatal Fury
,
Real Bout Fatal Fury Special
and
Real Bout Fatal Fury 2
, it only makes sense for Nintendo to finally upload the 1995 original. There's just one problem: Now that I've played through not one, but two newer installments, I'm not so keen to take the trip back to Real Bout Fatal Fury.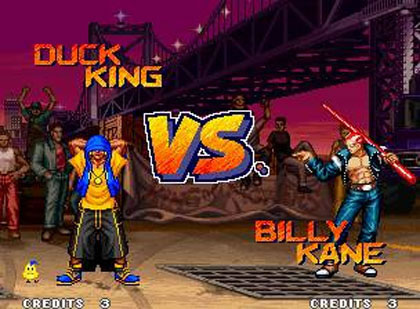 SNK made some real substantial changes to the mechanics when going from
Fatal Fury 3
to Real Bout. For starters, the number of buttons has been reduced, making this a much more accessible fighting game. There's also a brand new power gauge and stages with ring- outs. Of course, you already know all this if you've played Real Bout Fatal Fury 2. Instead of adding a bunch of new characters, SNK opted to go back in time and resurrect a few fan favorites. We get Duck King, Billy Kane and even Kim Kaphwan, all of whom were featured in Fatal Fury Special.
Does It Still Hold Up?
The good news is that Real Bout Fatal Fury plays significantly better than regular old vanilla Fatal Fury. However, it's hard to go back after tasting Real Bout Fatal Fury 2. The controls are a little stiff and the fighting isn't as fluid as you would like, but that could be said about most SNK fighting games in 1995. On the other hand, the visuals still hold up and it's always nice to see Geese Howard.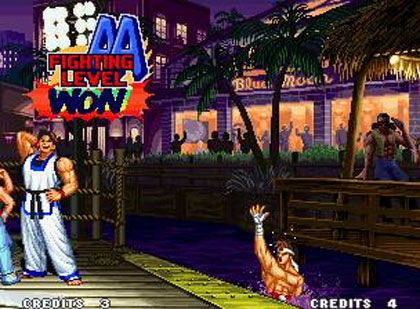 Is It Worth The Money?
By releasing these games out of order, Nintendo has shot themselves in the foot. Fatal Fury Real Bout isn't different enough to stand on its own, especially if you already own the 1997 and 1998 updates. The tragedy is that I would have recommended this game a year ago. There's a good fighting game here, one that doesn't get nearly the level of attention it deserves. But with so many other fighting games competing for your attention, there's little reason to spend your money on Real Bout Fatal Fury. This is for collectors only.