What Is It?
Art Camion Sugorokuden may actually be the most exciting GungHo game released last week. With a dash of Mario Party and a whole lot of 18-wheeler truckin', this hard to pronounce board game looks like a lot of fun. So what's the problem? Every single inch of this game is covered in menus, options, names, places and story elements completely written in Japanese. The game is so text-heavy that even getting into a single-player match can take a lot of work.
Players take turns spinning a number wheel (in Japanese) and moving around a large city connected by streets and highways. The game board they've constructed is truly impressive, taking players all over a realistic city. The idea is to race a prize box that is randomly placed at the beginning of each round. Your job is to figure out the best path to the prize before your friend (or up to three computer-controlled foes) gets there.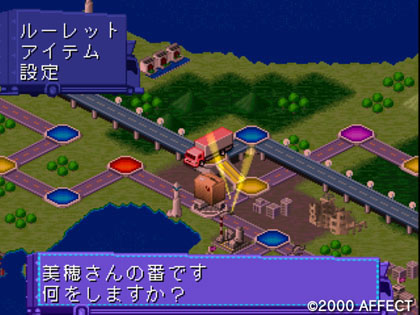 The problem is that I'm only about 50% sure I know the actual rules. I'm still thoroughly confused by the food, different colored spaces and why the computer is so much better than me. I'm sure these are all things addressed in text, but alas, it's all in a language I don't speak. This isn't a bad game, but this is only going to appeal to a very small audience.
Does It Still Hold Up?
Assuming I have the rules straight, Art Camion Sugorokuden isn't as complicated as it seems. In fact, the game ends up playing out like Chutes & Ladders with big rigs. It seems like it all comes down to luck of the spin, not real strategy. Or perhaps I'm wrong and the hidden depth isn't apparent because I don't speak the language. The visuals are also unspectacular. The whole package is daring American gamers to give it a chance.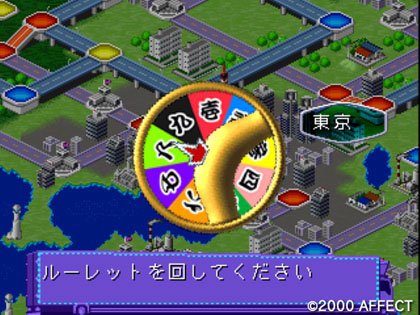 Is It Worth The Money?
This is the most conflicted I've been all year. On one hand, this may actually be a truly original board game with a lot to offer those gamers who play alone and the people that hang out in groups. Then again, not enough of the game makes sense, and what does line-up isn't as interesting as it should be. Fans who know the ins and outs of Art Camion Sugorokuden will probably cringe at my score, but it is my opinion that most English speaking gamers should avoid this at all costs. It's a shame, because I really like the idea of an open world Mario Party starring a bunch of 18 wheelers. Somebody needs to get on that idea.
(Editor's Note: This product is currently available through the PSN Import Store for use on the PlayStation 3, PS Vita and PSP. Keep in mind that no localization work has been done, including the instruction manuals. On the other hand, this import PS1 game is only $5.99!)