What Is It?
With its endless menus, robust in-game store and tons of custom options, Vehicle Cavalier is one of GungHo's most incomprehensible releases. In fact, the game is so impenetrable that it took me the better part of ten minutes to even discern the genre. And even when I figured out that this is an insanely outdated fight shooter, I still wasn't 100% sure what I did to make it go. As it turns out, Vehicle Cavalier isn't worth the hassle.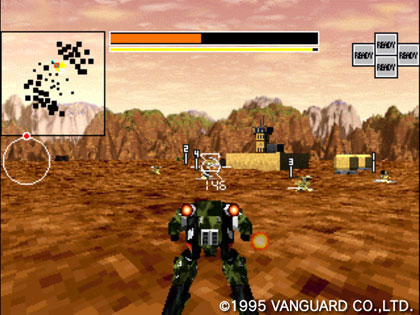 You play one of eight characters, each with their own story and weapons. You zip around the large open stages looking for tanks and other mechs. Between rounds, players will be able to select from over 300 attachments. All this sounds great on paper, but is an unmitigated disaster in execution. Even if you can get past the foreign language, you're left with an unintuitive action game that fights you every step of the way. Customizing your mech is harder than it should be and Vehicle Cavalier seems more interested in hard to navigate menus than good gameplay.
Does It Still Hold Up?
Released in 1995, this game came out before the invent of the dual shock controller. Because of this, everything is mapped to the D-pad and face buttons, making it almost impossible to control. It never felt like I had full control over the aiming and moving around is a nightmare. It doesn't help that the levels are so bland, rarely giving players much to hide behind. The visuals are also disappointing, full of technical problems and ugly mech models. Even if you can get past the mountain of Japanese text, you're left with an out of date mech game that fails on even the basic levels.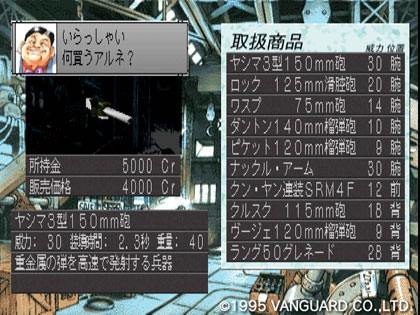 Is It Worth The Money?
Mech games are hard to pull off even in the best of circumstances, so it doesn't surprise me that Vehicle Cavalier is so difficult to play. What shocks me is how awful the whole experience is. It doesn't help that the game is Japanese text-heavy and stumbling into a match can occasionally feel like dumb luck. With no analog stick support and an emphasis on boring menus, Vehicle Cavalier is impossible to recommend.
(Editor's Note: This product is currently available through the PSN Import Store for use on the PlayStation 3, PS Vita and PSP. Keep in mind that no localization work has been done, including the instruction manuals. On the other hand, this import PS1 game is only $5.99!)