What Is It?
For many Americans,
Dokuro
was their first taste of GungHo. Even with its weird name and skeletal hero, this puzzler won over fans and critics alike. While not as endearing, Lup Salad suggests that this is a company with a long history of solid puzzle games.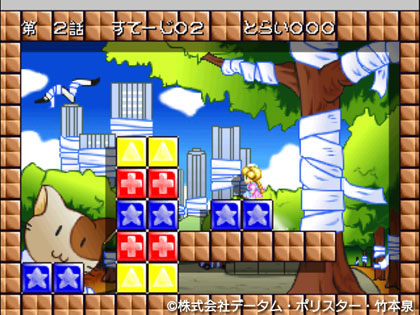 At its core, Lup Salad is nothing more than a simple color-matching exercise. You do this by pushing boxes around the stage. Match three colors and they disappear; eliminate all of the blocks and move on to the next stage. It's a simple set-up that allows for an impressive number of puzzles to solve. You play Salad, a precocious young woman on an adventure in the Puzzle Kingdom. There are more than 300 stages and, best of all, quick save functionality.
Does It Still Hold Up?
Of the six PlayStation games GungHo released last week, Lup Salad is among the most accessible. You don't need an instruction manual to know that pairing three colored blocks is the recipe for success. The visuals are sharp and I like how weird the story goes ... at least on a strictly visual level. My one complaint involves the control mechanics, which are a little too quick to act. I found myself accidentally getting stuck because my character was too willing to rush forward. And while not a deal breaker, I wish it was easier to quickly reset the stage or rewind time.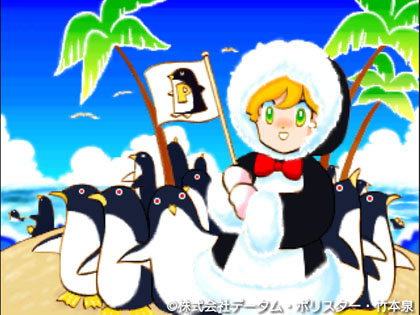 Is It Worth The Money?
Lup Salad is exactly the type of game GungHo should be publishing in the United States. While not the most original idea, this 1996 puzzler offers a lot of content for a very small price. You'll be working on the three hundred puzzles for weeks to come; completely ignoring those hot new games you got for Christmas. Lup Salad definitively proves that Dokuro wasn't a fluke!
(Editor's Note: This product is currently available through the PSN Import Store for use on the PlayStation 3, PS Vita and PSP. Keep in mind that no localization work has been done, including the instruction manuals. On the other hand, this import PS1 game is only $5.99!)