What Is It?
Originally an arcade game, Mighty Bomb Jack is an NES port that features a small character running around picking up bombs, opening locked treasure chests and dodging annoying enemies ... and that's it. That's all you do in the entire game, you just run around and jump REAL high. As an arcade game Mighty Bomb Jack was an exciting game, as an NES port it's the type of game that can cure insomnia. This is not my first experience with the game. I first ran into it when Nintendo tried duping the Wii Virtual Console audience. Much like the first time, I was amazing by the bland experience. It would be one thing if the levels changed, but as you progress through the game you will be forced to do exactly the same thing over and over again. Mighty Bomb Jack is an interesting game, but don't confuse "interesting" with being "good".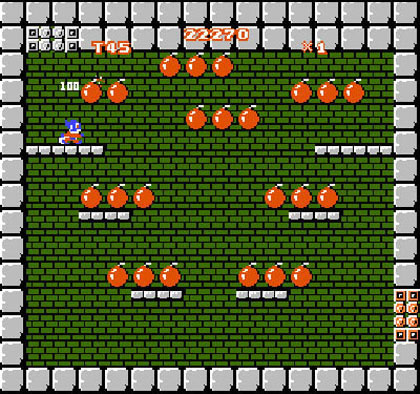 Does It Still Hold Up?
With all the amazing Game Boy and Game Gear games not on the Virtual Console, it's downright offensive to give us crap like Mighty Bomb Jack. This is a game that wasn't good two decades ago and has only gotten worse with age. A majority of the mechanics revolves around dodging unfair enemies that will kill you with only one hit. You can jump real high, but that's more of a liability than anything. On top of that the graphics are terrible (even for an NES game) and the levels don't change. The game just doesn't hold up, not even with nostalgia glasses on.
Is It Worth The Money?
It's easy to be disappointed with the direction of the 3DS Virtual Console in 2012. Instead of living up to the promise of a never-ending stream of old school handheld re-releases, Nintendo has spent much of their time uploading classic NES games. It would be one thing if Mighty Bob Jack was coming out with two other retro releases, but these days we're lucky to get even one game. Where's Ninja Gaiden, Wario Land II, Super Mario Bros.: The Lost Levels? Where are those Sega games announced last July? What had to go wrong in the world to make Nintendo re-release this crummy action game?