What Is It?
BurgerTime tells the story of Peter Pepper, a hard working small business owner, who is getting bullied by his next door neighbor. It seems that the local doughnut shop has decided to attack Peter's burger joint by sending foul tasting pickles, eggs and hot dogs. Even though these two eateries share very little in common, apparently one has to go down. If Nuten Doughnut wasn't such a bastard, he could see that working together is the right path to take. Can't we all just get along?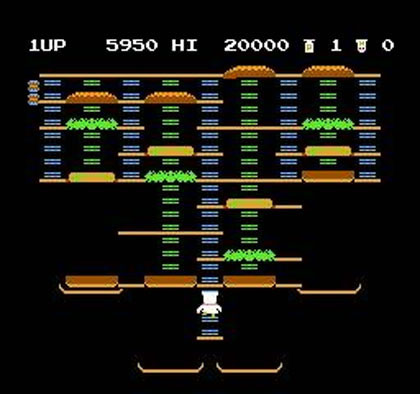 That's the set-up to BurgerTime, the incredibly successful early arcade game from Data East. BurgerTime mixes the Pac-Man style maze game with an objective, to walk across giant burger buns and patties to move them down the screen and ultimately build the perfect sandwich. As you progress through the game you'll find new level layouts and more aggressive bad guys. Now you can relive the tension with the Wii Virtual Console.
Does It Still Hold Up?
BurgerTime is a simple (yet addictive) concept that still works to this very day. I was reasonably impressed with
MonkeyPaw's recent update
and this NES port held my attention for a few rounds. The graphics resemble the arcade original and the gameplay is just as sluggish as I remember. There's a lot about BurgerTime that feels horribly outdated, but that won't stop you from having a few minutes of fun.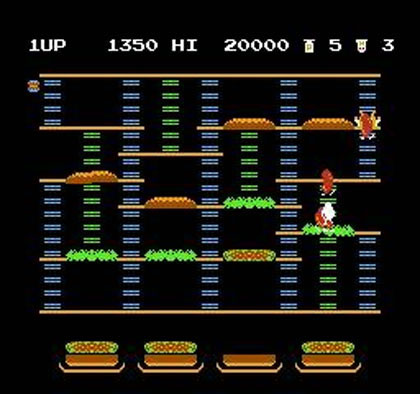 Is It Worth The Money?
BurgerTime is the last thing I expected from the Wii Virtual Console at this point. Six years in, I expected we would finally be getting Atari Jaguar and 32X releases. In reality we're stuck with long-overdue ports of outdated arcade games. If BurgerTime is the future of the Wii Virtual Console, then let's put it out of its misery now.