What Is It?
Don't let the lost-in-translation title throw you, because Finger Flashing is an addictive little puzzle game that means business. Think of it as a wicked combination of Tempest and Rock, Paper, Scissors. You play a witch forced to defeat baddies based on different hand signals. It all boils down to paper covers rock, rock breaks scissors and scissors cut paper. The idea is to move between the six lanes and use one of three magic spells to defeat the three types of enemies. But beware, throwing the wrong spell results in a new monster showing up on the board.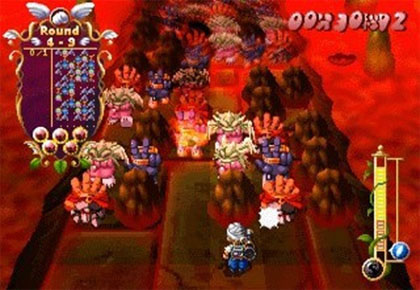 Although it looks like a shooter, it didn't take long for my Rock Band chops to kick in. The spells are mapped to three different buttons, so after a while it turns into a simple game of hitting every note ... er, bad guy. Finger Flashing does throw in a few wrinkles along the way. The cave stage sees enemies hiding behind rocks and other obstacles. In another stage you'll put up with bad guys that jump around and morph. The volcano stage is especially nasty, obscuring your vision of the enemies.
Does It Still Hold Up?
I was pleasantly surprised by Finger Flashing. Visually, the game looks incredibly sharp. Thanks to a stylish art design, you don't get the usual rough edges and outdated graphics. The various stages are also impressive, each with their own gimmick. The controls are simple enough, though it took me a few tries to fully grasp what was going on. If you can get past the initial learning curve, you'll discover that Finger Flashing still holds up remarkably well.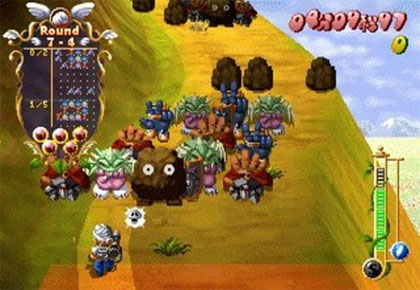 Is It Worth The Money?
Silly name aside, Finger Flashing turns out to be a great game. It's easy to play and I like that you can jump to any level at any time. It also does a good job of adding new ideas to the theme, something that adds a lot of character to the various stages. Best of all, almost all of the game is in English. Oh sure, you'll miss out on a few names and places, but everything from the pause menu to the options are in English. If you're curious about these GungHo PlayStation imports but don't know where to start, Finger Flashing should be at the top of the list.
(Editor's Note: This product is currently available through the PSN Import Store for use on the PlayStation 3, PS Vita and PSP. Keep in mind that no localization work has been done, including the instruction manuals. On the other hand, this import PS1 game is only $5.99!)