What Is It?
Lost in a sea of Last Blade and Samurai Shodown sequels, Ninja Master's is something of a rare Neo Geo game. Made by the developers of World Heroes and Aggressors of Dark Kombat, this cult classic is full of fast-paced action and memorable characters. It also has a few gameplay wrinkles that set it apart from either of SNK's more established weapons-based fighting games. For one thing, each of the twelve characters (including historical Japanese figures) can switch between fighting styles at the flick of a button. This allows the player to not only use a dizzying array of punches and kicks, but also adds swords, clubs and knives to the mix.
Beyond the weapons, what you'll find in Ninja Master's is a more combo-focused fighting experience. With moves that are designed to send players into the air for easy air juggles, Ninja Master's feels a lot like a 2D version of Tekken.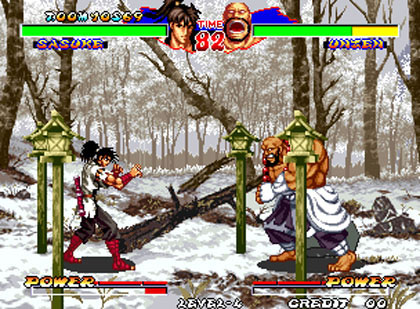 For years it felt like SNK was ignoring this forgotten treasure. Ninja Master's was left out of American compilation discs and was destined to live a life of obscurity. Thankfully now Neo Geo fans will have a chance to own the game without paying an arm and a leg on Ebay. This may not be the best fighting game on SNK's console, but Ninja Master's is a unique release worth looking into.
Does It Still Hold Up?
Visually the game is all over the place. The character animations look good and a few of the fighters are memorable, but the models are considerably smaller and less impressive than other similar Neo Geo games. The backgrounds are also inconsistent. Some stages are full of color and interesting details, too many are barren and not much fun to look at. That's a shame, because there are moments when you can really see the potential in Ninja Master's. On the other hand, the gameplay is fast and loose, making for a much more accessible fighter than either Samurai Shodown or Last Blade.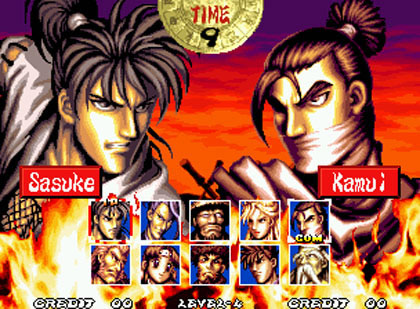 Is It Worth The Money?
I can't believe I've gone three hundred words without mentioning the game's questionable punctuation. If you can look past the unnecessary apostrophe, you'll find a solid fighting experience with a number of memorable characters. Many of the game's more interesting elements have been pilfered byother popular fighting games (including the PlayStation 2-era Mortal Kombat games). This may not be a must-buy, but that shouldn't keep you from looking into the crazy history of Ninja Master's.