What Is It?
Think that Castlevania: The Adventure is the only ghoulish game hitting the 3DS this week? Think again, because we're also getting Ghosts 'N Goblins, a port of the classic 1986 Nintendo Entertainment System remake. You play Arthur, a well-armored knight who is on an adventure to save the girl of his dreams from demons. To do this, Arthur will need to battle his way past zombies, ice monsters, flying dragons, a Cyclops and much, much more. Oh, and he'll need to do it twice in order to see the real ending.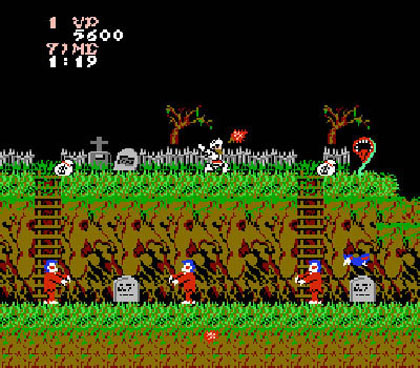 Although simplistic when compared to the Super NES and Genesis sequels, Ghost 'N Goblins still offers enough frights to keep things interesting. Each stage has its own look and style, complete with unique enemies to defeat. Some levels are little more than walking from left to right through a graveyard, while other parts of the game are more vertical. By the time the final boss shows up, Arthur will have fought his way through an abandoned village, haunted forest, ice castle and even an underground lair. Who needs to trick 'r treat when there's Ghosts 'N Goblins?
Does It Still Hold Up?
The Ghosts 'N Goblins franchise has always had particular controls, especially when it comes to jumping. This is not one of those games where the player has a lot of control over jump movement, so it's easy to steer poor Arthur right into the deadly water. The graphics haven't aged well, but the main game is as fun as ever. That is assuming you can wrestle the control and overcome the game's menacing difficulty. It's worth noting that this 3DS version is slightly easier, if only because of the system's quick save functionality.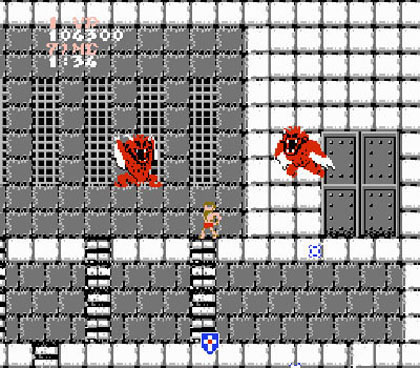 Is It Worth The Money?
While I'm partial to the 16-bit sequels, there's no denying that Ghosts 'N Goblins remains a great action game. It's also tough and devilishly unfair. On the Nintendo 3DS, you can chip away at the story little by little, making this a much more manageable port. Forget Castlevania and make Ghosts 'N Goblins your portable Halloween game of choice.