What Is It?
Have you ever wondered what Metal Slug would be like if it was played from an overhead perspective? Then let me introduce you to Shock Troopers, SNK's 1997 arcade hit. This eight-way shooter looks and feels a lot like Ikari Warriors and Guerrilla War, only with better graphics and animation. The game offers three unique paths, giving players enough incentive to play through the game multiple times. There's also two-player support, which helps cut down on some of the repetition. Shock Troopers is filled with impressive bosses and enough interesting backgrounds to keep players interested for quite a while. Though the story may be lacking, Shock Troopers has enough charm to attract fans of the Metal Slug franchise.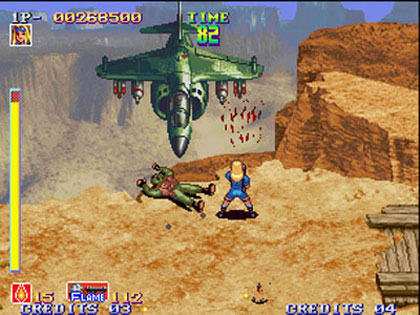 Does It Still Hold Up?
Let me make one thing clear right from the get-go: Shock Troopers is a repetitive action game. It's no different from all games in this franchise (no matter if they're overhead of side-scrolling), shooters from the 1990s were all about running and gunning. Don't expect any puzzle elements or a deep narrative. The controls are solid, though aiming your gun can take a little getting used to. Like the Metal Slug games, Shock Trooper excels when it comes to the impressive presentation. I also like the diverging paths, which requires several play-throughs.
Is It Worth The Money?
Shock Troopers may not plow original ground, but it does have enough new ideas to warrant the nine dollar price tag. If you're a fan of Commando, MERCs or Ikari Warriors, then you owe it to yourself to play one of the best examples of the genre. The gameplay may not be very deep, but I have a hunch you'll be blown away by the amount of content found in this tiny download. Shock Troopers is definitely worth picking up if you're into overhead shoot-em-ups.