It's New York City and the year is 1989, do you know where Jackie Chan is? Apparently he's in Gang Wars, SNK's newest downloadable Mini for your PSP, PlayStation 3 and PS Vita. Originally released in the late 1980s, Gang Wars will be instantly familiar to anybody who has played Final Fight, Streets of Rage or countless other brawlers. When a girl gets kidnapped by an evil gang leader, it's up to Mike and Jackie to take on an army of well-armed baddies.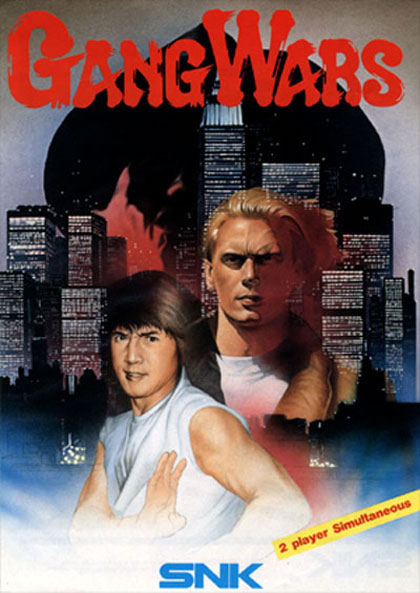 Looking past the generic story, Gang Wars is best known as a fake Jackie Chan game. The similarity is striking, both on the promotions (above) and in the in the game. Even the character's name, Jackie, suggests that you're playing one of the greatest action stars of all time. Unfortunately, Jackie only comes out with a second player, effectively leaving him out of this arcade port.
Jackie or no Jackie, this is a lame beat-em-up that is short and forgettable. The action is little more than punches and kicks, with the player occasionally picking up guns and bottles. Mike's swing animation is ridiculous and the whole game moves too damn slow. On a side note, I was simultaneously impressed and creeped-out by the strangely realistic (yet wholly ugly) cinemas. Too bad there isn't a more interesting story to tell in Gang Wars.