After two decades of making Mortal Kombat games, Ed Boon should be commended. Here's a man that stuck with a franchise that was mocked, misunderstood and long considered a second tier fighting game. It may have taken him nine tries, but at long last Ed was finally able to make the Mortal Kombat that perfectly fulfilled the promise laid out in the 1992 original. If that's not an inspirational story, then I don't know what is.
Sappiness aside, last year's Mortal Kombat was one of the best fighting games in recent memory. It was able to make people completely forget about the long overdue Marvel vs. Capcom sequel and SNK's redrawn King of Fighters game. It got everybody excited to hack, slash and rip the bleeding spine out of a cast of loveable mass murderers. Mortal Kombat got it right, which is why I gave the game an "A" grade the first time I played it.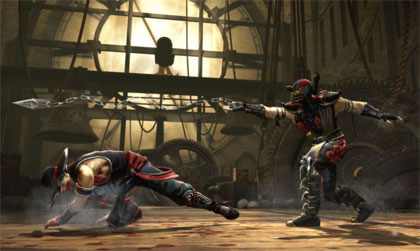 One year later and I continue to be impressed with what Ed Boon and his team did with Mortal Kombat. To help remind anybody who might have missed the game the first time around, Warner Bros. Games has decided to release Mortal Kombat: Komplete Edition. Like all Game of the Year-style re-releases, this Komplete Edition features all of the downloadable content and a smattering of bonuses.
Before we get too far ahead of ourselves, let's discuss what Mortal Kombat is. In a lot of ways this is a return-to-basics reboot of the franchise name. Despite the gorgeous 3D modeling, this brand new Mortal Kombat is a 2D fighting game through and through. All of the old characters, moves and secrets are back in this 2011 update. Best of all, the game's bone-crushing, blood squirting, spine-ripping violence is as gruesome as ever, which should delight longtime fans of the series.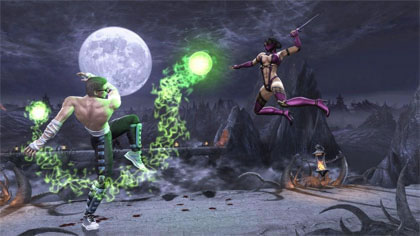 While much of the gameplay feels traditional, there are a number of additions that can really change the course of a fight. Mortal Kombat has a three-part power meter, which allows players to perform enhanced versions of each character's special moves. On top of that, there's an "X-Ray" attack which shows us in vivid detail exactly what happens when we're hit, stabbed and set on fire by these murderous fighters. Thanks to the much-improved graphic engine, these powerful hits make an impact. I found myself cringing while performing the x-ray attacks, some of them are as brutal as anything I've seen in this series.
Another thing that helps sell the violence is the way the carnage sticks around. Mortal Kombat characters have always showered their opponents in blood, but now that gooey red stuff stays on the fighter. In fact, every punch, slash and stab leaves a mark. By the end of the round each fighter looks completely torn apart, making this one of the most visually satisfying fighters I've ever seen.