G.I. Joe: The Rise of Cobra
The worst part of the game is clearly how the game controls. You shoot with the right trigger, but outside of that you have very little control over where you're firing. Playing the tutorial unlocks a way to switch targets (gee thanks), but even that is completely unruly. Switching guys is as easy as pushing the right analog stick left or right, you basically cycle through the next nearest bad guy. The problem comes when you have a lot of characters on screen. Suddenly switching from the guy you're firing at to the one next to you at point blank range can take several seconds, enough time for you to lose most of (if not all of) your life. This dilemma happens constantly, multiple times in each level.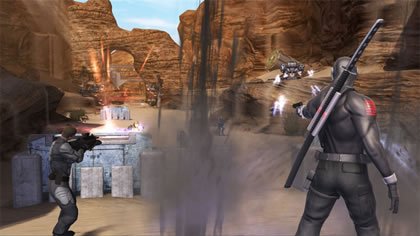 And that's not the worst of it. Sometimes your character won't target a character for what feels like no reason. They can be right next to you, but no matter how many times you fiddle with the right analog stick you can't select him. What's more, the target will often get stuck on bonus boxes and exploding red barrels. While it's certainly cool that you can get extra points for shooting boxes, they take several seconds to destroy and end up frustrating the whole situation when you're in the middle of a major firefight. This one issue is enough to ruin would could have been a fun old school-style action game. Nobody enjoys fighting with the targeting system, especially now that we're in the 21st century.
Speaking to annoying throwbacks to the 1990s, G.I. Joe: The Rise of Cobra doesn't give you any control over the camera. That's right, you have no control whatsoever. That means that the game's camera awkwardly follows you, showing you what it thinks is most important. There's just one problem, what it this is most important and what IS most important are two different things. I spent much of the game literally firing off screen hoping I was shooting something. The bad guys seem to like to hide in areas that the camera doesn't want to show you, no matter where you stand. Also, there are times when you are running into the screen and the camera simply won't follow, making your tiny character even tinier. Even with a large HDTV I had to bring out the magnifying glass for a few sections of the game.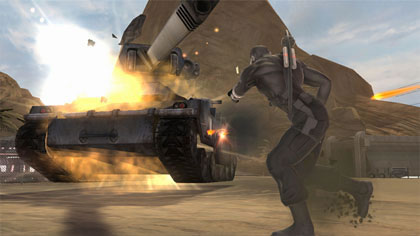 To make this game even more infuriating, The Rise of Cobra gives you mid-level checkpoints that aren't actually mid-level checkpoints. Each level is split up into multiple sections, usually with 2 - 4 sections. Once you hit that checkpoint the game revives any fallen characters and takes all of your points away. What it does not do, however, is save your progress. So, if both characters die you will go back to the start of the level, not the mid-level checkpoint. That's right; you go all the way back to the beginning of the level. Even if you're fighting one of the game's underwhelming bosses, you will still go to the beginning of the level. If that's the way it's going to be, why even bother having a mid-level checkpoint?
The game suffers from a lot of other problems, too. For example, the background levels you'll go to are as generic as they come. One is in the ice, another in a desert, there's a forest level, and so on so forth. You'll also notice that each level is set-up exactly the same. You go into a small enclosed area, kill several waves of bad guys (all with the same voice and lame expressions) and then repeat in another arena-style area. Occasionally you'll have to open doors and cut off force fields, but that involves nothing more than destroying certain transmitters or hacking into specific computer stations. It's all very basic stuff. So are the mini-games, which involves you raining missiles down on enemy tanks. Somehow even that is annoying in The Rise of Cobra.