I have a bone to pick with Electronic Arts. Not because of their shady business practices and shut down great studios. That stuff is terrible, but my issue is that this behemoth of a game publisher has completely forgotten about the games that helped make them a household name. I'm talking about the Strike series, Wing Commander and Road Rash, big names that haven't been heard from in nearly twenty years. But while Electronic Arts may not be interested in revisiting Road Rash, I'm excited to see that other companies are willing to step in and fill that void. At least, I was before I played Road Rage by Maximum Games.
Sometimes you just know you're going to hate a game right from the opening cinema. That's the case with Road Rage, a miserable racing game that starts bad and somehow seems to get worse as it goes along. The introduction tells us that when the bottom 95% rose up against the powerful, an authoritarian government decided to build walls and segregate the districts. The result, obviously, is a bunch of biker gangs taking over and terrorizing Subtroit.
This sets-up a gritty environment where you not only speed around the city at reckless abandon, but are actually encouraged to knock your opponents off their bikes using baseball bats and hockey sticks. Toss in a bunch of diverse race types, a few different weapons and a colorful cast of characters, and you have a recipe for an exciting little racing game. But this, I'm sorry to say, is not an exciting little racing game. This is one of the worst games I've played this year.
Since I can already tell that this is going to go negative in a hurry, let's start out with a few of the good things about Road Rage. For starters, it reminds me of Road Rash, a series I still have fond memories of. There are also quite a few different types of events, including checkpoint races, takedown wars and elimination circuits. And don't forget about the open world, which is reasonably sized and full of diverse looking districts.
If it sounds like I'm struggling to come up with nice things to say, it's because I am. I'm not going to mince words here, this game is garbage. It looks like a PlayStation 2 game, handles like an out of control boulder and performs like it was released a year before it was ready to ship. Road Rage gets everything wrong, even the few nice things I said about a moment ago. It's almost a masterclass in what not to do when making an open world racing game.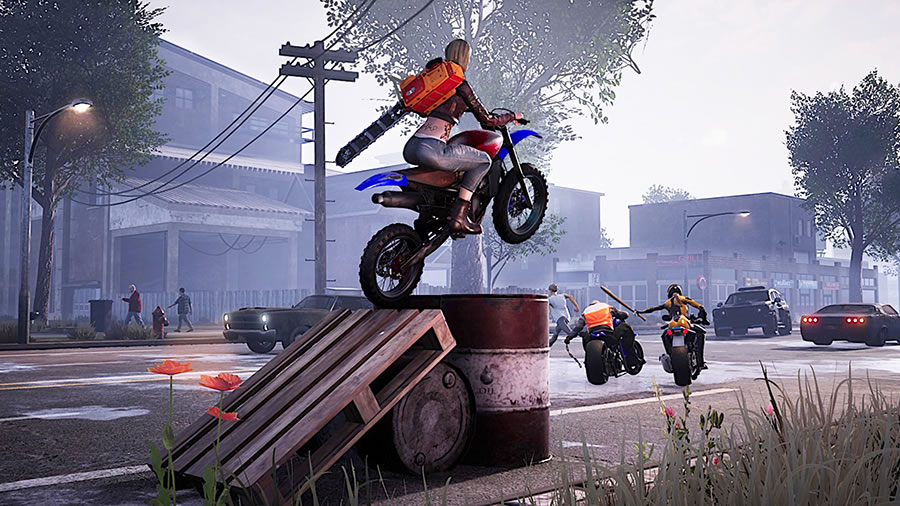 Click For the Full Picture Archive
But let's get specific, because there's actually a lot we can take away from a game like Road Rage. Remember when I said it handled like an out of control boulder? Well, I'm going to take that back, because out of control boulders still adhere to the laws of gravity. This is the type of racing game where hitting a curb or obstacle will shoot you straight up into the air like you're made out of helium. What happens when you take a corner wrong or come too close to a car seems almost random, and there was never a moment where I felt in control over my bike.
The weird gravity also affects the city, especially when it comes to the other people on the street. The issue isn't that there are other cars driving around, but rather that they are literally falling from the sky as you try race from one checkpoint to the next. They cars also have a bad habit of blowing up for no reason and flaying through the air like a projectile. It's a chaotic mess that is every bit as unpredictable as it is frustrating. Nothing in this game runs like it's supposed to.
The problem is that this unpredictability ends up having a major impact on the events. For the most part, the game is too easy. There are more than 90 main events and side-missions, most of which you will win by a mile on your first attempt. But when the game decides to get tough, it suddenly becomes brutal. A lot of this can be blamed on the anti-gravity physics and the loose handling, but sometimes it's just because the game cheats. You can buy new bikes and upgrade the different parts, but none of that is going to keep you safe from a falling car.
Click For the Full Picture Archive
And just when you think it can't possibly get any worse, along comes the colorful cast of characters. This is a game about biker gangs, so you get the usual group of thugs and lowlifes. The problem is that instead of sounding tough and mean, the acting comes across like a middle school performance of Grand Theft Auto. I could spend all day going over every terrible performance, but just listen to this.
Probably the biggest sin is that the combat never feels natural. This is a game built around smacking people in the face with a hockey stick, so the fact that there's no skill beyond hammering the buttons is a little disappointing. I also hate the way you will lock on to an opponent and go into cruise control. This should be a way to let you focus on taking down the other biker, but instead it's the leading cause of motorcycle accidents in Road Rage. This game is a mess.
As somebody who has been craving a new Road Rash game for nearly twenty years, Road Rage just doesn't make the cut. This is a poorly executed motorcycle racing game that gets almost everything wrong. It's ugly, has horrible handling, sounds awful and crashes all the time. The best thing I can say is that it has a diverse roster of events, but even those feel like they were lifted straight out of better open world games. Road Rage is easily the worst racing game of the year.