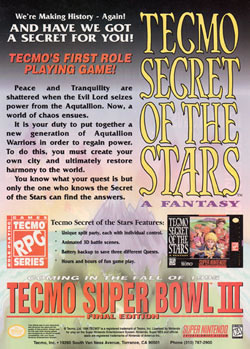 Click here to make larger!
Did you hear? Tecmo is "making history - again!" This time around it's with Tecmo Secret of the Stars: A Fantasy. Wait ... really? That can't be a real name, can it? Sure enough, this poorly laid out advertisement really does introduce us to the crazy world of Tecmo Secret of the Stars: A Fantasy. And best of all, the company best known for Ninja Gaiden proudly states (in large lettering) that it is their "first role-playing game!" Tecmo has got a secret for you ... and apparently that secret is that they hired a bunch of action game developers to make a role-playing game. I mean, how hard can making a role-playing game actually be?
Who knows, maybe this is secretly the best role-playing game on the Super NES. What I can't overlook is the terrible, no good, very bad name. Tecmo Secret of the Stars: A Fantasy sounds suspiciously like ABC's Battle of the Network Stars. When I close my eyes I see Robert "The Pickaxe" Conrad going head to head with Wonder Woman's Lynda Carter. Except, with a name like Tecmo Secret of the Stars it's probably more like Ryu Hayabusa going head to head with Bo Jackson.
All joking aside, I do seriously question why a company would not only put their own name in the title, but also add a ridiculous subtitle. Isn't Secret of the Stars enough? If you're just going to add stuff, why not go all the way and call it Tecmo Secret of the Stars: Role-Playing Fantasy Game That Nobody Is Going To Buy Because Final Fantasy III Is Out! At least that would be accurate. Is it necessary to put the word "Tecmo" in front of every game you make? You don't see other game makers doing that, so get over yourself, Tecmo. Go on young warrior, save the world in this adventure of questionable quality. But whatever you do, don't forget who made it!
FROM:
I Didn't Know I Was Bad Advertising