Welcome to 30 Ridiculous Retro Rumors, a brand new series that will run daily between November 26 and December 25, 2015. This is a series where we debunk some of the craziest rumors and predictions of all time. Today we're taking a look at Wii Sports. It's the only game your grandmother owns, and Quartermann is here to set the record straight. Unfortunately, this Electronic Gaming Monthly rumor will only make you dumber. See for yourself in today's episode of 30 Ridiculous Retro Rumors.
This is a real rumor taken directly from the October 2006 issue of Electronic Gaming Monthly ...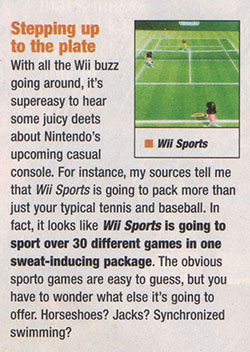 It's not easy to overshadow The Legend of Zelda, but that's exactly what Wii Sports was able to do in 2006. Despite years of Twilight Princess hype, it was Nintendo's mini-game collection that stole the show. And for good reason, as it helped demonstrate the Wii's unique motion controller and was accessible enough to get everybody in on the action. For millions of casual gamers around the world, Nintendo's inexpensive console was little more than a Wii Sports playing device.
As much as I enjoyed Nintendo's take on bowling, I'll confess to quickly growing bored of the mini-game collection. However, had Electronic Gaming Monthly's prediction come true, perhaps I would have stuck with the collection longer than I did.
According to Quartermann's sources, Wii Sports is going to come packaged with more than 30 different games. With a package that comprehensive, the Q wondered if jacks, horseshoes and synchronized swimming would make the cut. Sadly, they did not. Wii Sports only offered five games to choose from, each based on established sports like baseball, tennis, boxing and golf. He was only off by at least 25.
While horseshoes and synchronized swimming never showed up, Wii Sports Resort did manage to fit twelve different mini-games into one package. This follow-up experimented with more untraditional sports, like Frisbee, cycling, power cruising, table tennis, wakeboarding and even swordplay. Still, even with the beefed up roster, Wii Sports Resort comes up way short of this EGM prediction.